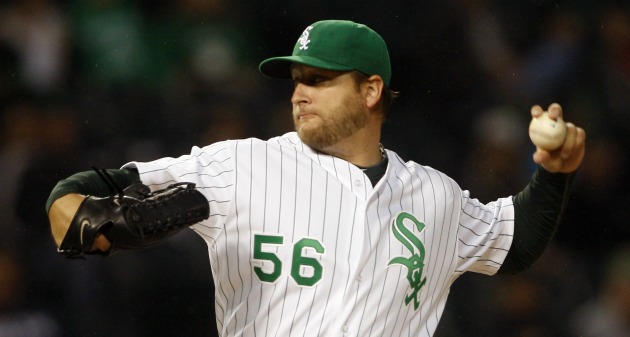 By C. Trent Rosecrans
Mark Buehrle may not be the top starter on the market, but he may be the most sought-after, in part because he's reportedly seeking just a three-year deal.
According to Jon Heyman of Sports Illustrated, 14 different teams are in on the left-hander who will be 33 in March. FoxSports.com's Ken Rosenthal reports that the Rangers, Nationals and Marlins are the most aggressive on Buehrle and that the Nationals prefer Buehrle to Wilson because of the length of contract.
Those three may be the three teams that Joe Cowley of the Chicago Sun-Times reports are interested in Buehrle. Cowley tweets that three teams have already offered three-year deals with sufficient money to Buehrle, who is expected to command an average of at least $14 million per year. Heyman notes the Twins and Diamondbacks are among the teams interested in the lefty, but he may be too rich for their blood.
One thing that could complicate Buehrle's courtship is his demand for a no-trade clause. The Marlins, as a team, don't give out no-trade clauses. Miami has already hosted Buehrle on a recruiting trip, but he left without signing.
Buehrle has won at least 10 games, started 30 and pitched more than 200 innings in each of his 11 full seasons in the big leagues, including a 13-9 record with a 3.59 ERA in 31 starts in 2011. He saw a slight rise in his strikeout rate over 2010, but it's been on a downward trend since 2005, when he struck out 6.1 per nine innings. Still, he's a workhorse and has all the intangibles you could ask for, not to mention he's won three Gold Gloves in the last three years. Overall, he's posted a 161-119 record with a 3.83 ERA in his career.
But the most desirable part of Buehrle is his desire for a three-year contract in a weak pitching market. No team wants to be saddled with a Barry Zito or Carlos Zambrano, and even if Buehrle underperforms, he'd only be on the books for three years. He's also not returning to the White Sox, and according to Rosenthal, he's "intrigued" by a move to the National League.
There are few places where Buehrle wouldn't fit -- especially in a rotation with a strong No. 1 starter already in place.
For more baseball news, rumors and analysis, follow @eyeonbaseball on Twitter or subscribe to the RSS feed.