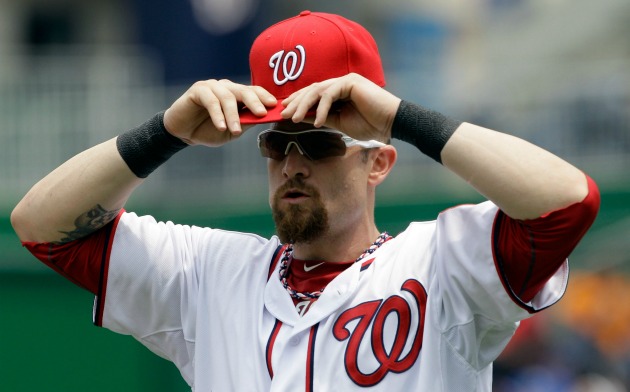 By Evan Brunell

TRADE IMPLICATIONS
: It's never easy to get traded, and
Jonny Gomes
is still adjusting to life in Washington.
Unfortunately, his first game ended hitless with a hit by pitch, grounding into a bases-loaded double play in the third, then striking out with runners on the corners in the seventh inning.
"You can't help but kind of jump into an interview, if you will," Gomes said. "It's everyone's first time seeing you and whatnot. I've got a few years in now. I'm a little older. I'm definitely not nervous by any means. But there's still some sea legs. I can't remember the last time I grounded into a double play with the bases loaded, maybe ever. I had to go back in the archives to find that. So I'm a little bit out of my element, things like that. But I felt good at the plate."
Gomes admitted that staying in the National League is going a long way toward getting used to his new surroundings.
"It's not like they're going to pitch me different because I'm in a different uniform," Gomes said. "There's certain strategies with guys who hit behind you, who hit in front of you, guys who like to run, guys who don't like to run – just kind of situational ball inside the clubhouse that I'll have to adjust to. That just comes with days of service to this team." (Washington Post)
RASMUS FALLOUT
: Why didn't the
White Sox
simply trade for
Colby Rasmus
themselves, Phil Rogers reports. His conclusion? The White Sox want to keep the manager's seat available for Tony La Russa, as there's a distinct possibility he could rejoin the ChiSox after the year. (
Chicago Tribune
)
NEW REP IN TORONTO
: For Rasmus' part, he just wants to move on and close the St. Louis chapter of his career. Who can blame him? Rasmus is looking to play his game in Toronto, free of distractions. Free from a manager the center fielder feels never cared for Rasmus. Free from constant speculation about his father's involvement in his career. (
Sportsnet.ca
)
MAN ON THE MOVE
: Why does
Edwin Jackson
keep getting traded? It's simple: Jackson is a good enough pitcher to be in demand by many teams, but has a salary that has continually risen the last few years. (
Big League Stew
)
MORE CONINE
: After
Hanley Ramirez
called
Mr. Marlin Jeff Conine a "chicken,"
he then took to the Twitter waves to speak more on the subject, and this looks PR-scripted. "I'm sorry that Mr. Conine feels that way, and I admire him for all that he accomplished in his career. Proud to leave my skin on the field and the sweat on my uniform every night for my team, as we pursue our winning goals. End of story, we have games to win!" (
Twitter
link
)
NO HITTING
:
Adam Dunn
never hits in the offseason, choosing to pick up a bat in spring training and find his swing then. It's always worked, but it hasn't in Chicago. The good news is that Dunn's new home near Houston is close to a place for him to swing the bat in the offseason, and he may elect to change his routine this winter. (
Chicago Sun-Times
)
SKIPPING ZITO
:
Barry Zito
was rocked so badly in his last start that he may have lost his opportunity to make his next start -- and perhaps has lost his spot in the rotation. (
San Francisco Chronicle
)
UNPOPULAR
: Hideki Irabu was never a popular Yankee, but he didn't have many fans in the Japanese media, either. A
New York Times
story details how Irabu got a frosty reception from his countrymates in his first
Yankees
news conference. (
New York Times
)
TIME FOR A FIVE-MAN
:
Jake Peavy
is ready for a five-man rotation with the departure of Edwin Jackson. The only drawback is that Peavy has essentially been a five-inning pitcher all season and won't be fully healthy until next year. This is something to watch. (
Chicago Sun-Times
)
TO PAY OR NOT TO PAY
: It's always going to be better as a big-market team. That's just a fact. But parity rules the day in 2011, and payroll space isn't why. It's because most teams are geared to contend this year than usual. (
BizofBaseball.com
)
Mets DEBUT
: New Mets prospect
Zack Wheeler
will draw his first start on Monday, in Class A Port St. Lucie. Wheeler was dealt for
Carlos Beltran
. (
Zack Wheeler Twitter
)
IRREGULAR
:
Kenley Jansen
was hospitalized after Tuesday night's game, but was released a day later after a cardio conversion put his heartbeat back in place. (
MLB.com
)
Rays TRADE
: Joe Maddon doesn't want his team to make any trades, the manager saying he likes the combination he's got. But there's a reason he's manager, not GM. You can bet on Tampa making some moves before the weekend is out. (
St. Petersburg Times
)
BEST CHICAGO GM
: Three GMs are in action out in Chicago this weekend: the White Sox's Kenny Williams, the
Cubs
' Jim Hendry and football's Jerry Angelo, leader of the Bears. Which GM inspires the most confidence to get things done? No surprise, it's Williams, who has a history of not waiting around to make his move. (
Chicago Tribune
)
For more baseball news, rumors and analysis, follow @cbssportsmlb on Twitter or subscribe to the RSS feed.