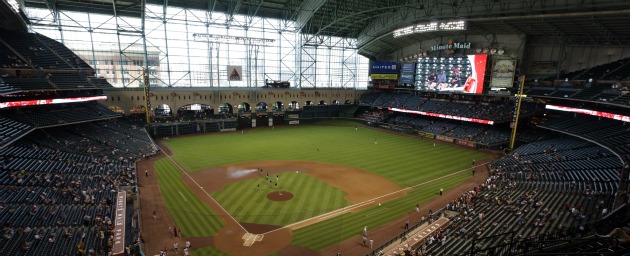 By C. Trent Rosecrans
The Astros' move to the American League is proving to be none-too-popular in Houston, and one local lawyer says the move violates the team's lease agreement with the Harris County Houston Sports Authority.
Kevin W. Yankowsky told the Houston Chronicle that the move would violate Article 5, Section 5.1 of the least, and I'll let Steve Campbell of the Chronicle do the explaining here:
Article 1, Section 1.1 of the lease states that all capitalized terms in the lease have meanings assigned in a glossary of defined terms. One of the key provisions, Yankowsky said, comes in Article 5, Section 5.1 defining "Permitted Uses" of Minute Maid as including "exhibition, presentation and broadcasting of Baseball Home Games and activities related thereto."

The Glossary of Defined Terms classifies "Baseball Home Games" as "any major league baseball game in which the Team as the host Team for its opponent (i.e. the Team takes the field in the first half of each inning and bats in the last half of each inning of such baseball game)." Team, as defined by the Glossary, is "the major league baseball team owned by the tenant pursuant to the rights granted to it as a National League franchise under the Franchise, currently named the Houston Astros Baseball Club." Franchise, as defined in the lease, is "the Team issued by the National League."

"In the simplest form, what this means, in my judgment, is come opening day of 2013, the Sports Authority can refuse to let them play because it's not a permitted use of the stadium," Yankowsky said. "They can quite simply lock the doors and say, 'No, it's not a permitted use.' The play of Major League Baseball games, by definition, are limited to games in which a National League team is the home team."
Of course, without the Astros, what would the city do with Minute Maid Park? It's an interesting protest for sure, but don't look for it to come to anything. Astros fans will just have to appreciate every Bud Norris at-bat while they still can.
For more baseball news, rumors and analysis, follow @eyeonbaseball on Twitter or subscribe to the RSS feed.