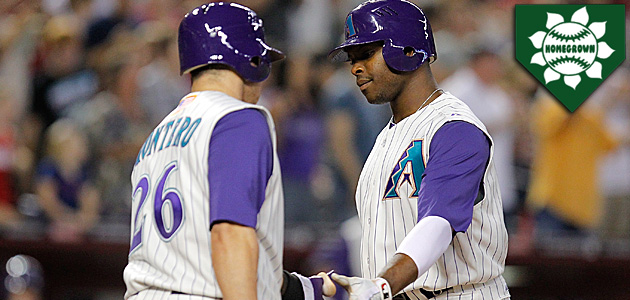 By Matt Snyder
What if players were only permitted to stay with the team that originally made them a professional? No trades, no Rule-5 Draft, no minor or major league free agency ... once you are a professional baseball player, you stay in that organization. This series shows how all 30 teams would look. We give you: Homegrown teams.
To view the schedule/past entries of this feature, click here.
If you're exhausted by the
constant rumors we're circulating at the Winter Meetings
, here's your fun little break. Today's installment of Homegrown brings the most powerful team in the bigs. Everyday in Chase Field would be like this past All-Star break's Home Run Derby. And the fans wouldn't even have to boo the entire time.
Lineup
1.
Stephen Drew
, SS
2.
Miguel Montero
, C
3.
Justin Upton
, RF
4.
Carlos Gonzalez
, CF
5.
Dan Uggla
, 2B
6.
Carlos Quentin
, LF
7.
Paul Goldschmidt
, 1B
8.
Mark Reynolds
, 3B
Starting Rotation
1.
Jorge De La Rosa
2.
Brett Anderson
3.
Max Scherzer
4.
Josh Collmenter
5.
Chris Capuano
Both De La Rosa and Anderson had season-ending surgeries in the real 2011 season, so if they did, we'd have to turn to
Brad Penny
and
Ross Ohlendorf
. We also have first-rounders
Jarrod Parker
and
Trevor Bauer
waiting in the wings. And good ol'
Brandon Webb
, too.
Bullpen
Closer -
Jose Valverde
Set up -
Javier Lopez
,
Sergio Santos
,
Daniel Schlereth
,
Vicente Padilla
,
Esmerling Vasquez
Long - Penny, Ohlendorf,
Micah Owings
Notable Bench Players
Rod Barajas
,
Chris Snyder
,
Lyle Overbay
,
Conor Jackson
,
Scott Hairston
,
Emilio Bonifacio
,
Gerardo Parra
What's Good?
Wow, that's some serious power in the lineup. If everyone stayed healthy for a full season, there's every reason to believe all eight hitters would have at least 20 home runs, with Montero and Drew really being the only questions there. A handul of them would hit more than 30. So, yes, the power of the offense immediately jumps out, but really everything is pretty good here. There is depth, a solid rotation -- albeit injury-riddled -- and a good closer with quality setup men.
What's Not?
Reynolds is a butcher at third base. If Anderson and De La Rosa both fell injured before Bauer and Parker were ready, the rotation would become awfully thin. Even if they stayed healthy, there isn't a bona fide ace. The outfield defense isn't great, with Gonzalez and Quentin, but it isn't awful either.
Comparison to real 2011
The real
Diamondbacks
went 94-68 and won the NL West before bowing out in Game 5 of the NLDS to the
Brewers
. This team would be every bit that good, if not better -- and again, being that this is a hypothetical exercise, we're hypothetically assuming health to the top two starting pitchers. If this team played like it was capable, it could very well be a World Series champion.
For more baseball news, rumors and analysis, follow @EyeOnBaseball on Twitter or subscribe to the RSS feed.