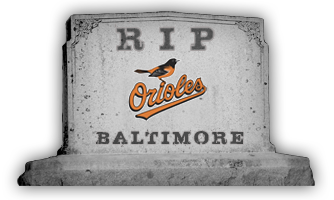 By Matt Snyder
Another season gone, another disappointment for 29 teams as one is immortalized forever. Let's take a look back at 2011 and forward in Eye on Baseball's R.I.P. series...
Team name:
Baltimore
Orioles
Record:
64-90, 29.5 games back in AL East
Manager:
Buck Showalter
Best hitter:
Adam Jones
-- .283/.324/.466, 23 HR, 80 RBI, 63 R, 25 2B, 11 SB
Best pitcher:
Jeremy Guthrie
-- 9-17, 4.28 ERA, 1.34 WHIP, 128 K, 202 IP
The more things change, the more they stay the same. The Orioles haven't been in playoff contention since 1997. Following that season, they finished fourth nine times and third once. They're now headed for their fourth consecutive last-place finish.
2011 SEASON RECAP
Things appeared to be looking up early in the season for the Orioles. They started off 6-1, and this wasn't against pushovers. They swept the
Rays
, took two of three from the
Tigers
and then beat the
Rangers
. Of course, it was too good to be true. They proceeded to lose eight straight. They did battle back to .500 twice and lingered close to .500 until being buried by an awful stretch, when they went 6-23 from June 11-July 15. That would end any hope of breaking through, as the Orioles wouldn't be closer than 20 games in the AL East after July 22.
The Orioles did get younger in trading
Derrek Lee
,
Koji Uehara
and
Mike Gonzalez
, and there were some positive signs. They now have a decent offensive core of catcher
Matt Wieters
, third baseman
Mark Reynolds
, shortstop
J.J. Hardy
and outfielders
Nick Markakis
and Adam Jones (any of the four could have been picked as the "best hitter" above). None of those players are older than 28. Of course, none are younger than 25, nor do any appear to be superstar material. On the mound, the Orioles saw enough from rookie
Zach Britton
to believe he's one of the pieces of the future, but
Brian Matusz
had a disaster of a season.
Jim Johnson
is showing himself the answer at closer and
Pedro Strop
-- who was acquired from the Rangers in the Gonzalez deal -- is throwing the ball very well in front of him.
2012 AUDIT
The outlook would be a lot more sunny in a different division. The fact of the matter is that the Orioles are set up to improve their on-field product, but probably not be drastic enough to translate into more wins next season -- because the AL East is so good. The
Yankees
,
Red Sox
or Rays don't appear to be getting much worse any time soon and the
Blue Jays
are pretty well set up to take some significant steps forward. That means that even if the Orioles get better, they're still behind the 8-ball, so to speak.
One area where they can improve is from simple progression from all the young players. Matusz can't possibly be worse, so long as he stays mentally balanced, healthy and works hard in the offseason.
Tommy Hunter
has good enough stuff to be a part of the rotation, too, just as
Jake Arrieta
does. Chris Tillman is still too young to give up on. Shifting to the position players:
Brian Roberts
will still only be 34 and should be healthy, so there's hope he comes back with a productive season.
Luke Scott
and
Nolan Reimold
are fine pieces of a supporting cast and we already mentioned the offensive core. Also of note: Wieters is becoming a great defensive catcher. That matters.
FREE AGENTS
Cesar Izturis
, SS
Vladimir Guerrero
, DH
OFFSEASON FOCUS
They need to quit trying to make a patchwork lineup (Lee, Guerrero) for the short-term and instead use some money looking long-term. You aren't competing in the AL East by filling holes with washed-up vets. Here are five big things I'd do to improve the Orioles with the eyes on the future.
Sign Prince Fielder. Whatever it takes. I mentioned above the offensive core is good, but lacking a centerpiece. Prince ties it all together. The top seven in the lineup would go something like: Roberts, Markakis, Fielder, Jones, Hardy, Reynolds, Wieters. That looks pretty good, no? Fielder might not want to head to the worst team in the AL East, but money talks. Blow him away. Worried about his durability due to weight? He's only 27 and hasn't played less than 157 games in a season until this year (and he's at 155 and primed to surpass that mark again). He just doesn't miss games. After the big splash signing, try to keep everything else in-house and see what other holes definitely need to be filled after '12.
Move Mark Reynolds to DH permanently. He's an absolute butcher at third, but his power and on-base abilities are helpful to the offense.
Let Josh Bell and Chris Davis compete for the third base job. Both players have upside, so the Orioles could strike gold here and make the lineup even stronger.
Trade Jeremy Guthrie. He's going to be 33 next season and -- as long as you can ignore the high-loss totals his Orioles have saddled him with -- isn't a bad pitcher. He could give a contender 200 decent innings as their fifth starter. Thus, he'll get something like a mid-level prospect back, but the main reason is the Orioles need to see what they have by giving extended looks to the young pitchers who have already seen time in the bigs. Go into the season with a rotation of Britton, Matusz, Hunter, Arrieta and Tillman and give it an extended look. By midseason, if one or two aren't working out, it's time to dip into the minors for others. If three or four aren't working out, more drastic measures will have to be taken in the offseason.
Stick with the Strop-Johnson duo at the end of games. There's no reason to go out and grab another retread like Kevin Gregg again. Trade Gregg if they could, but it's doubtful much comes back. Whatever, let him pitch in non-save situations.
This wouldn't make them a contender in 2012, but they'd be better and would have the chance to evaluate where everything stands with the young players after the 2012 season. You have to take babysteps to get back to respectability after finishing fifth four straight times.
For more baseball news, rumors and analysis, follow @EyeOnBaseball on Twitter or subscribe to the RSS feed.