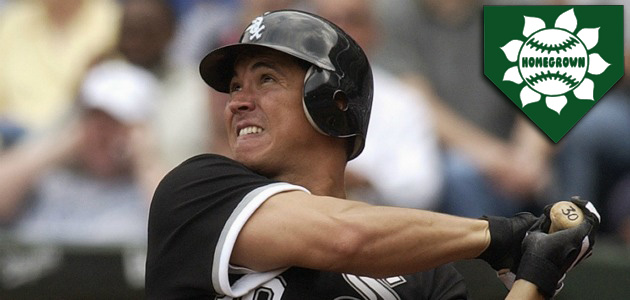 By C. Trent Rosecrans
What if players were only permitted to stay with the team that originally made them a professional? No trades, no Rule-5 Draft, no minor or major league free agency ... once you are a professional baseball player, you stay in that organization. This series shows how all 30 teams would look. We give you: Homegrown teams.
To view the schedule/past entries of this feature, click here.
If there's an opposite of the Oakland A's and Billy Beane's
Moneyball
, it's Kenny Williams and the
White Sox
. The White Sox have not drafted well and searched to fill holes through free agency, spending money and taking big chances in trades. While Williams' way makes him the butt of some jokes and nobody's making a movie about him anytime soon, he does have something Beane doesn't have -- a World Series trophy.
Lineup
1.
Alexei Ramirez
, SS
2.
Gordon Beckham
, 2B
3.
Michael Morse
, 1B
4.
Chris Young
, CF
5.
Carlos Lee
, DH
6.
Magglio Ordonez
, RF
7.
Ryan Sweeney
, LF
8.
Brent Morel
, 3B
9.
Chris Stewart
, C
Starting Rotation
1.
Mark Buehrle
2.
Gio Gonzalez
3.
Daniel Hudson
4.
Brandon McCarthy
5.
Clayton Richard
Bullpen
Closer -
Jon Rauch
Set up -
Matt Guerrier
,
Chris Sale
,
Addison Reed
,
Boone Logan
,
John Ely
Long -
Lucas Harrell
Notable Bench Players
Not surprisingly, when looking at the state of the organization (and the state of that lineup), the White Sox are thin on bench players, with
Dayan Viciedo
making a push for the starting lineup as well as
Chris Getz
on the infield and Mike Cameron in the outfield.
What's Good?
There's no
Adam Dunn
, for starters. The rotation is good, especially at the top with Buehrle and Gonzalez. The rest of the rotation is good enough, as well. While Rauch isn't the top closer around, the rest of the bullpen is talented.
What's Not?
The lineup isn't going to strike fear into too many pitching staffs, even though there are nice pieces. The corner outfielder and DH are all on the down side of their career. There's also not much depth on the roster among position players.
Comparison to real 2011
The White Sox finished 79-83 in 2011, thanks to poor seasons from Dunn, Morel, Beckham and
Alex Rios
. The rotation is likely a little better in real life than this team, while the bullpen is better here than in real life, evening out. The lineup may not put up a lot of runs, but the White Sox didn't, either. The real team has an impact bat in
Paul Konerko
and a good complimentary piece in
Carlos Quentin
. This lineup doesn't have those kinds of weapons, so I'm not so sure our hypothetical team could match the 79 wins the White Sox finished with in 2011.
Next:
Baltimore
Orioles
For more baseball news, rumors and analysis, follow @eyeonbaseball on Twitter or subscribe to the RSS feed.