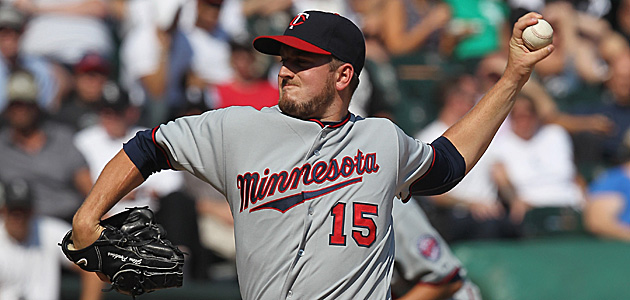 By Matt Snyder
The Minnesota
Twins
have signed relief pitcher
Glen Perkins
to a three-year, $10.3 million contract extension, the club has announced. Perkins was already under contract for $1.55 million this season and wasn't eligible for free agency until after the 2013 season. Still, this contract now eats up his first two years of free agency and also includes an option for the 2016 season.
Perkins, 29, had a 2.48 ERA and 1.23 WHIP with 65 strikeouts in 61 2/3 innings last season. It was his first full season in the bullpen, as he was a starter through 2009 and only appeared in 13 games in 2010.
"We are very pleased to reach this agreement with Glen", said Twins general manager Terry Ryan. "He has been a reliable reliever for us and has helped stabilize the back end of our bullpen in the set-up role. When we were looking for someone to step up last year, it was Glen who seized the opportunity and pitched the way we knew he could, after selecting him out of the University of Minnesota."
MLB Spring Projected Lineups
At this point, Perkins is part of the bridge to closer
Matt Capps
. In fact, Perkins is the top left-handed option in the bullpen and likely the primary setup man. It doesn't take much of a stretch to see him landing in the closer role, either, as Capps struggled in the role last season. And it's worth noting that
Rhett Bollinger of MLB.com reported via Twitter
that Perkins' new contract does include incentives for games finished.
As Ryan mentioned, Perkins is a Minnesota product, having gone to the University of Minnesota. Before that, he attended Stillwater High School in Minnesota as well.