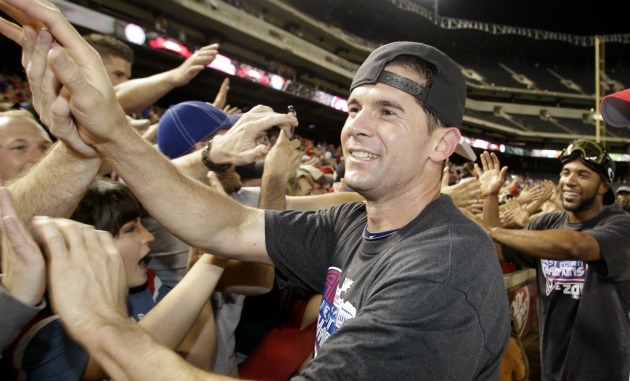 By C. Trent Rosecrans
I'm not sure I'd vote for Michael Young for the American League MVP, but I sure would have to consider the Rangers veteran if I had a ballot in the AL -- and that's a far cry from where Young started the season.
Remember going into spring training? Young had no home on the diamond and reportedly wanted a trade from the only team he's played for as a big leaguer. At 34, he seemed to be anything but what his surname suggested and of declining skills, not to mention he was a man without a position. The team signed Adrian Beltre to take over at third base, displacing him once again. Young had been moved off shortstop to make room for Elvis Andrus after previously being moved from second base. And now the team had another third baseman and it seemed there was nowhere for Young.
Instead, Young has wound up playing everywhere. In addition to 68 starts as the team's DH, he's made 39 starts at third base, 36 at first base and 13 at second. He may be the team's MVP -- with V standing for both valuable and versatile. He played in all but two games this season, and produced. He's hitting .338/.380/.477 -- all improvements over last season -- along with 11 home runs (down from a year ago), 104 RBI and a MLB-best 209 hits.
"People want to talk MVP? It's ridiculous if they don't consider Michael Young," Rangers manager Ron Washington told the Fort Worth Star-Telegram. "I'd like someone to tell me a utility player who does what he does… When it all started, nobody thought he'd be able to get playing time."
The AL MVP vote could be one of the toughest in recent years, but Washington's right, Young should seriously be considered.
Rockies to be aggressive in offseason: The Rockies were many people's pick to win the National League West, or at least the wild card. Instead, the team has limped to a 71-87 record so far, 21 games behind the surprising Diamondbacks. Colorado has money to spend and will look for several upgrades in order to be competitive in 2012. [Denver Post]
Sayonara Kuroda? Dodgers right-hander Hiroki Kuroda said there's a 50-50 chance he returns to Japan next year. Kuroda is 13-16 with a 3.17 ERA this season. [MLB.com]
Rasmus blames Cardinals: Colby Rasmus hasn't played well since going to Toronto, and for that, he's blaming the Cardinals. The 25-year-old center fielder has as much talent as anyone, but his head seems to continue to get in his way. Maybe Tony La Russa was right… [National Post]
Pinch-runner paying dividends: Tyler Greene isn't playing much shortstop for the Cardinals, but he's still making his mark on the bases. [St. Louis Post-Dispatch]
Stadium holding back A's: The A's still hope to get a new stadium in San Jose, but if they do they'll likely hold back on spending -- because the stadium wouldn't be ready for at least three years, and the team would want to build toward opening strong in the new stadium. At least, that's what the agents for Josh Willingham hear. [San Francisco Chronicle]
Extending DatDude: Reds general manager Walt Jocketty will meet with the agents for second baseman Brandon Phillips in New York this week to talk about an extension. Jocketty has already said the team would pick up Phillips' $12 million option for 2012. [MLB.com]
Sanchez hopeful: Giants second baseman Freddy Sanchez said he expects to be ready for opening day in 2012. Sanchez underwent shoulder surgery in August. [San Jose Mercury News]
Homecoming: You think it's bad when you see minivans with a kid's name and number on the back? I know I'd be embarrassed if if my mom had "Trent" and "CBSSports.com" on the back of her car. Or even if she wore a t-shirt with that around town. Well, imagine how embarrassed Reds rookie Devin Mesoraco felt when his mother distributed more than 700 t-shirts with his image and name on it for Saturday's game in Pittsburgh. [OMGReds.com]
Maybin wants to stay in San Diego: Cameron Maybin has apparently found a home in San Diego. When asked if he was open to signing a long-term deal with the Padres, Maybin said "100 percent." You can also find out where he buys his shoes. [San Diego Union-Tribune]
If you don't hit does it matter where you hit? The Cubs' Alfonso Soriano isn't happy about batting seventh most of the season fo rthe Cubs. Shouldn't he be more upset with him putting up the type of production that makes him a seven-hitter? [ESPNChicago.com]
For more baseball news, rumors and analysis, follow @eyeonbaseball on Twitter or subscribe to the RSS feed.