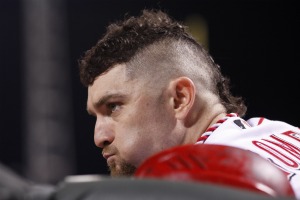 Brandon Phillips started the fire between the Reds and Cardinals last season, Johnny Cueto stoked it and now Jonny Gomes may just have added another log to the fire.
The Cardinals are bracing for bad news as Adam Wainwright is headed to St. Louis to have his elbow looked at. Most of the world has already jumped to the conclusion that he's going to have to have Tommy John surgery, missing all of this season.
That word certainly reached Arizona, home of last year's National League Central champions. In a world where injuries aren't celebrated, Gomes wasn't hiding his excitement that the Cardinals may not be as strong as they were a season ago due to the loss of their ace.
"Wainwright's gone, Wainwright's gone, Wainwright's gone," Gomes sang "at the top of his warbly voice" as he entered the Reds' clubhouse on Wednesday morning, Hal McCoy of the Dayton Daily News writes , adding that the singing was done "joyously." McCoy was the same person who reported Phillips "whiny little bitches" comment last year that led to a brawl. Gomes is 2-for-10 lifetime against Wainright with a homer and a double coming as his two hits.
Reds manager Dusty Baker took the high road, saying, "I hate to see that. He's not only a great pitcher, he seems like a fine young man, too," Baker said, according to MLB.com's Mark Sheldon . "Every time I've seen him, he's been mannerable, polite and respectful."
That said, Baker notes that it makes his rivals weaker.
"Nobody has the depth to overcome [the loss of] a Wainwright," Baker said, according to McCoy. "You can replace him, but in Wainwright and Chris Carpenter, you're talking two of the top six or seven pitchers in the league. … Philadelphia has most of the other ones."
While Baker did take the high road, he also got in a shot at his critics -- "who are they going to blame for that one?"
UPDATE: Well, this is interesting, MLB.com's Mark Sheldon checks in and says Gomes was not singing about Wainwright, and then called and got a further comment from Gomes, who insisted he was not gloating about the pitcher's injury. Sheldon says he was present when Gomes walked into the clubhouse and the outfielder was singing "You're the Best Around" by Joe Esposito from the original Karate Kid, not, as McCoy wrote, an unidentified tune with the lyrics "Wainwright's gone."
"I was doing an interview with [Rob] Dibble and Dibble gave me the breaking news that Wainwright was flying back to St. Louis with arm problems. That's all I heard. I came in and I said 'is Wainwright gone, is Wainwright gone?'

"To clear up everything, I came up with Wainwright. I know Wainwright. I think he's one of the top notch pitchers in the National League and baseball. Outside of different uniforms that we wear and different cities we play in, playing in the Major Leagues, we're all brothers. There's a brotherhood there. There's one thing you would never wish upon any other player and that's an injury. We've all had them at some point coming up and we might currently be having one now.

"From the bottom of my heart, I would never wish anyone an injury. If they did have an injury, you wish them the best in rehab. As Major League ballplayers, we have a brotherhood for each other. On the field, we're going to battle and play our nine innings and we're going to compete. Off the field, we're still human and we have families. There's one thing you don't wish upon anyone and that is an injury. Even if they are on the other team, you wish them the best of health. If Wainwright is gone, it doesn't mean anything to us. It maybe gives them the opportunity to make a trade for another big ace. The Cardinals are top notch themselves. They've battled with injuries there. They are a top notch organization with a top notch general manager and a top notch ownership."
UPDATE: Another writer on the Reds beat, the Cincinnati Enquirer's John Fay, checks in with his account of the "incident" and also talks to Gomes, who said he was "mortified" that it was reported he was celebrating Wainwright's injury:
I heard it. I honestly don't remember exactly what he sang. I didn't report it because I generally don't write what players say aloud or sing in the clubhouse. I only use what I get in interviews.
-- C. Trent Rosecrans
For more baseball news, rumors and analysis, follow @cbssportsmlb on Twitter or subscribe to the RSS feed.