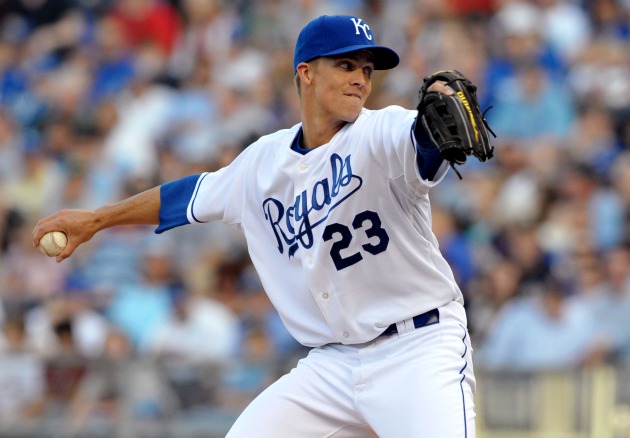 In a wide-ranging interview with the Milwaukee Journal-Sentinel, Zack Greinke admitted he "just did what he was asked" the second half of 2010 for the Royals, a tacit admission he wasn't invested in his or the team's production.
"When the games started, I pitched 100% every time," he said. "But in the second half, I just did what was asked."
Why?
"Close to the trade deadline and I was doing all this stuff, the organization wasn't really doing the same effort. They were doing the same effort the long run but not for that season or the next season. It's not easy to play 162 games and be focused the whole time. It takes a lot out of you."
No one's denying that it's difficult to be focused for 162 games. After all, it's a marathon, not a sprint. But to admit that he didn't do all that he could have done in the second half is not just a disservice to himself, but a disservice to the game. His frustration doesn't appear to stem from the way the Royals did business -- just how they were approaching the season, which speaks to Greinke's personal motivations.
"They're probably No. 1 in prospects in all of baseball," he said. (In fact, they are No. 1, and by far.) "When your prospects are that good, it's hard to ignore it. It had to almost change the path of the organization."
That's exactly what happened in K.C., as the Royals are preparing for a brutal season this year, all in the name of working in their top players over the year and into 2012. That doesn't give Greinke license to take the year off, however. And looking at his first- and second-half splits, it's easy to see the difference. In 18 starts prior to the All-Star break, Greinke posted a 3.71 ERA, whiffing 101 and walking just 22. That's not close to his 2009 AL Cy Young Award season, but still a darn good pitcher.
The second half, however, saw his ERA spike to 4.72 in 15 starts, punching out 80 and walking 33. While his strikeout rate only dipped 0.8 points, his walk rate ballooned. So the statistics back up Greinke's claim that he didn't do above and beyond what was asked of him (which was simply to take the ball every fifth day).
And yeah, even though the Royals weren't -- and didn't -- win, you don't get paid $7.25 million to jake it.
The Royals may not have put a winning team around Greinke, but to repay this way K.C. for the hoops it jumped through to make sure Greinke got the treatment and time needed to deal with his social anxiety disorder is disturbing. Then-GM Allard Baird was tireless in defending Greinke for walking out as one of the best pitching prospects that had come along in quite a long time. To hear Greinke tell it, he could have sworn he was done with baseball.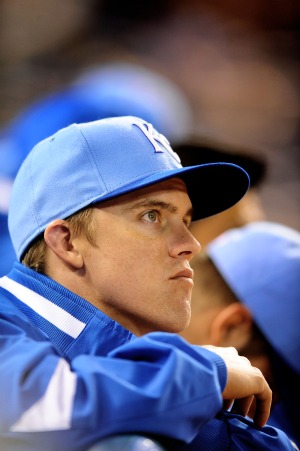 "I was done playing [in my mind]," he said. "I was surprised I came back. They had me see a psychologist. We found out what was going on and why I didn't like going on a baseball field. I thought it was a 10 percent chance of coming back."
Now that he's admitted how he dogged the second half of the year, it will be a reputation that ends up following him for the rest of his career. Now, teams know to keep him happy and keep the team winning, or he'll check out. And that's not a reputation you want, especially when the team already has to manage keeping him happy, which is clearly difficult to do.
And what happens if Milwaukee fails after the year? They gave up major pieces of their future to get Greinke, expecting him to pitch at the top of his level for at least the two years he is under contract. But this is a team going for it this year, with Prince Fielder as a free agent. Although Grienke says he expects the Brewers to win beyond 2011, Fielder or not... what happens if they don't win? Does Greinke check out?
As a Brewer, he's been pleased with how camp has gone so far, saying he has fit in easily. But then you hear this: "I like a lot of the guys. I haven't seen anyone yet that's annoying to me. They've all been good."
Now, it's very difficult to judge Greinke for this particular bit, as the fact remains that he has social anxiety disorder and it clearly affects him, and those that don't suffer from it can never truly know what it is like. Still, it's notable that he looks out for people that could be "annoying" -- and given his social anxiety disorder, he could find simple chit-chat annoying. That appears to be why he dislikes talking to the media, because of all the "eyewash comments" he gets when "random people come and waste my time talking every day. It takes eight minutes to get a real question out because they're like buttering me up," Greinke says. "Then they get to the question and it's a stupid question. So it's a waste of 10 minutes, and in that 10-minute time I don't get to do what I needed to do."
Except that's a cop-out, right? After all, Greinke had plenty of time for the media last year given he wasn't preparing to pitch after the All-Star break.
"To talk to people, I have to spend energy talking to them," he said. "If I expend my energy on talking to people and making friends, it takes away from the energy I could focus on getting ready to pitch. I try to avoid nonsense talk."
Greinke clearly views communicating with people as an expense, and he admits it affects him in meetings with the team or the daily pitcher/catcher meetings prior to each game.
"It wears me out to do stuff like our meetings every day," Greinke admitted. "If I actually listen to the person talking, it'll wear me out. So I kind of go into a little daze. Then I'm still refreshed from it."
Give Greinke credit for this: he's honest, and he's not afraid to show how he feels. This allows us to understand where he's coming from. It can't be easy to suffer from social anxiety disorder and play a profession that demands constant interaction.
Openly admitting not giving his all, however, is unacceptable no matter the circumstances.
UPDATE: This is important -- Tom Haudricourt wrote a follow-up article later Wednesday that made clear that none of the reporters sensed any "malice" on Greinke's part with regards to the comment about annoyance and the media. "These are simply the daily demons that he deals with," Haudricourt writes.
Let's be clear about one thing. I certainly wish no malice on Greinke's part. In fact, I find it impressive and commendable how far he has come and how successfully he has managed his disorder.
It remains no excuse for dogging it. And Greinke clearly stated that he did.
-- Evan Brunell
For more baseball news, rumors and analysis, follow @cbssportsmlb on Twitter or subscribe to the RSS feed.