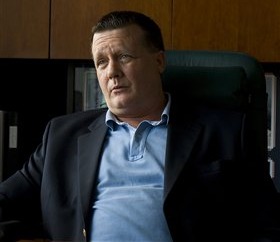 Wait, the
Red Sox
and
Yankees
owners agreeing on something?
That's surprising, but Hank Steinbrenner told the Boston Globe he agrees with Sox owner John W. Henry's claims that something needs to be done to fix the revenue sharing problem in baseball.
"We've got to do a little something about that and I know [MLB commissioner Bud Selig] wants to," Steinbrenner said. "There's a way. Obviously we're very much allied with the Red Sox, and Mets and Dodgers and Cubs, in that area. At some point if you don't want to worry about teams in minor markets, don't put teams in minor markets or don't leave teams in minor markets. Socialism, communism is never the answer."
Steinbrenner said the Yankees contributed around $130 million to MLB's coffers between revenue sharing and luxury tax, the most the Yankees have ever had to pay. Boston's president, Larry Lucchino, said a few days ago that Boston chipped in $86 million.
On another subject, Steinbrenner says he sees "hunger" returning to the team, believing the club lost its edge after the 2009 World Series.
"In 09 I saw it," he said. "... Sometimes they celebrated a little too much last year. Some of the players too busy building mansions and concentrating on other things and not concentrating on winning. I have no problems saying that. They've come into this spring with a new hunger and that's what it takes to win."
How you can win 95 games and get to within two wins of the World Series and have your hunger called into question is rather odd, but then again, this is a Steinbrenner we are talking about.
Oh, and the one player who built a mansion was none other than Derek Jeter. Nice dig, Hank.
"I'm not singling anybody out," Steinbrenner said. "This year, from what I've seen by our coaches they've come in with a real new drive and determination, the kind they had in '09. I think they felt embarrassed last year. It bothers them."
I can think of 26 other teams that would have loved to be embarrassed the way New York was in 2010.
-- Evan Brunell
For more baseball news, rumors and analysis, follow @cbssportsmlb on Twitter or subscribe to the RSS feed.