There was talk at the Winter Meetings that Gary Sheffield was looking for a team. Who was talking? May have been Sheffield, who was at the Winter Meetings in Orlando, shopping himself.
Well, with camps opening up and no team, Sheffield has officially retired,
he told George A. King III of the New York Post
.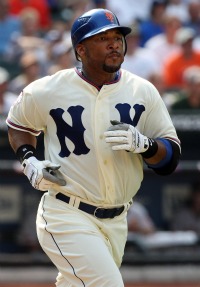 Sheffield last played for the
Mets
in 2009. He finishes his career with a career slash line of .292/.393/.514, 509 home runs, 2,689 hits and 1,676 RBI in parts of 22 seasons with the
Brewers
,
Padres
,
Marlins
,
Dodgers
,
Braves
,
Yankees
,
Tigers
and Mets.
Now, of course, comes the talk of the Hall of Fame, and Sheffield is already lobbying.
"I am sure it will be mentioned and debated, but from standpoint I know who is in the Hall of Fame," Sheffield said. "A lot of them don't belong in the Hall of Fame. If someone wants to debate me, check the stats."
Sheffield will be another interesting case in what is now known as the "steroid era" and his inclusion in the Mitchell Report will certainly be a strike against his case.
"The thing about the Mitchell Report is that I cringe about it because the guy who wrote the report didn't talk to me," Sheffield said. "If he talked to me I would respect that no matter what. But I cringe on that because he didn't."
According to the report, Sheffield initially declined an interview request by George Mitchell, then said he'd agree to an interview with his lawyer present. However, his lawyer was "undergoing medical treatments" at the time and because of that, he didn't meet with Mitchell.
Sheffield was a known client of BALCO founder Victor Conte. Sheffield was also mentioned in the book "Game of Shadows" and admitted using a cream given to him by Greg Anderson, Barry Bonds' trainer, but said he didn't know the substance was a steroid.
-- C. Trent Rosecrans
For more baseball news, rumors and analysis, follow @cbssportsmlb on Twitter or subscribe to the RSS feed.