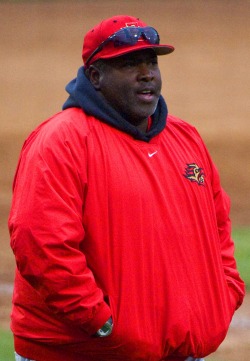 Tony Gwynn is a happy man once again, but he wasn't so happy this past fall when he battled cancer.
Gwynn, who coaches baseball at San Diego State University, was rocked by the news he had cancer after he underwent surgery to remove a tumor from his parotid -- a salivary gland in the jaw. After all, he had two benign tumors excised from the location before.
This time was different.
The Hall-of-Famer suffered paralysis in the right side of his face after the surgery and was unable to blink his right eye, as the Los Angeles Times reports. Smiling and laughing was a difficult chore. For someone who has a reputation as one of the most genial players in modern baseball, this was unthinkable.
Gwynn became a ghost at SDSU, with assistant coach Mark Martinez shouldering the load in the past. And when players did get a glimpse of Gwynn, they could tell something was different.
Senior outfielder Pat Colwell said Gwynn tends to have "a glow about him. He jokes around; he has a huge smile. That just wasn't there."
But now, as Gwynn puts it, "things are about back to normal."
Gone is the walker used to get around after radiation and chemotherapy sapped his strength and whisked away 80 pounds from his 300-plus-pound body. Treatment was completed in December and while he refused to call himself cured, is beginning an exercise program and has made another healthy lifestyle change in quitting chewing tobacco, which can lead to all types of cancers, especially in the mouth.
"I haven't had any setbacks whatsoever," Gwynn said. "I'm getting control of my face again."
Gwynn isn't quite back to work yet, but fully expects to be back on the bench Feb. 18 for the Aztecs' opener and also intends to continue his role broadcasting Padres games on local TV.
-- Evan Brunell
For more baseball news, rumors and analysis, follow @cbssportsmlb on Twitter or subscribe to the RSS feed.