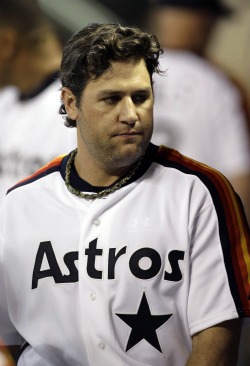 Lance Berkman took to the airwaves Thursday, speaking on 1560 AM in Houston to explain why he chose the Cardinals over the Rangers when inking a contract. The 35-year-old opted for a one-year, $8 million pact with St. Louis to play right field as opposed to DHing and playing some outfield and first base for the Rangers.
So, why the Cardinals over the defending American League champions?
"I felt like if they didn't re-sign Cliff Lee that they were going to be an average team and I feel that's probably what's going to end up happening," Berkman said Thursday via ESPN.com. Berkman faced the Rangers in the ALCS as a member of the Yankees after coming over from the Houston Astros, where he had the best years of his career. "It's all about your pitching. I feel like last year was one of those special years where you kind of catch lightning in a bottle and they got hot and they had some guys that I felt like were pitching better than their talent level and consequently they had a great year."
Is Berkman just jealous that the Yankees fell to the Rangers?
Texas finished 2010 fifth overall in runs scored with 567 and followed that up with 636 runs allowed (not including unearned runs), good for 10th in all of baseball. That's pretty impressive for a squad known more for hitting than pitching. While Cliff Lee fronted the rotation, the other contributors were C.J. Wilson and Colby Lewis, also getting starts from Tommy Hunter, Scott Feldman and Derek Holland among others.
Wilson had a successful conversion to the rotation after spending four years as a full-time reliever. He finished with a 3.35 ERA in 204 innings pitched and while he did pitch over his head according to his 4.20 xFIP, he also showed he's for real and can be a solid middle-of-the-rotation starter.
Wilson was backed up by Colby Lewis, a failed MLB starter who went to Japan, discovered how to pitch and returned to his old stomping grounds of Texas to post a 3.72 ERA in 201 innings -- and he looks for real.
It's behind the two pitchers where Texas may scrap. Scott Feldman did go 17-8 with a 4.08 ERA for Texas in 2009, but followed that up with a 5.48 ERA stinker in 22 starts and seven relief appearances. The jury is out on just what Feldman can provide, while Hunter threw together a 3.73 ERA in 22 starts. It's difficult to imagine Hunter as anything more than a No. 4 starter with a 4.50 ERA. But the saving grace could come from Derek Holland, just 24 and who contributed a 4.08 ERA in 10 starts and four relief appearances.
It's definitely a rotation with a lot of questions, but the Rangers have to feel confident going into the season that their offense, supplemented by new third baseman Adrian Beltre and catcher/first baseman Mike Napoli can carry the load until the Rangers see how the rotation shakes out.
That doesn't mean to say Berkman is a Rangers hater. He cited that the opportunity to stay in his home state of Texas, playing in a park conducive to offense and knowing Nolan Ryan and bench coach Jake Moore as what drew him to Texas as an option -- until he looked closer.
Meanwhile, Wilson fired back on ESPN 103.3 FM in Dallas Friday.
"I think it's funny," Wilson said. "He was contemplating retirement, so I'm not going to take anything too seriously. I'm not going to get offended by anything he says. If that's a representative idea of what people around the league think, that's better for us because they're going to do the same thing and they're going to not take us seriously. If we end up stomping through the playoffs again, everyone will be like, 'Wow, what a bummer.' "
Wilson also addressed comments Berkman made about Adrian Beltre, whom Texas signed to a five-year, $80 million deal that has an option for another $16 million that should be easily exercised.
"They were itching to spend some money," Berkman said of acquiring Beltre. "I probably could have gotten the best deal out of them, especially in light of what they gave Adrian Beltre, which I think is pretty much of a reach for him."
Wilson begs to differ -- as he should, as Beltre should steal away some hits and turn them into outs.
"Adrian Beltre is the best defensive third baseman in baseball, and he's a pretty good hitter as well," Wilson said. "I don't know if anyone knows he hit .340 last year, which is definitely better than .220. I'm pretty stoked about having him on my team."
For the record, Beltre hit .321 in what was one of the best seasons of his career, and Berkman hit .248. While Beltre was likely playing over his head, his defense is invaluable and should do well in the home park of the Rangers. Meanwhile, Berkman is struggling to avoid retirement.
"We have a lot of pride on our team," Wilson added. "We're very proud of what we've turned our team into. It's about the players and what we've done on the field. We've gotten better. Now the organization is somewhere and we have direction.
"If someone is going to slam us, that's going to be something. ... You hold little grudges like that. I hope the fans understand and when Lance comes to play at some point in Texas, I hope our fans boo."
The booing will have to wait, as the Cardinals are not slated to visit Texas in 2011.
-- Evan Brunell
For more baseball news, rumors and analysis, follow @cbssportsmlb on Twitter or subscribe to the RSS feed.