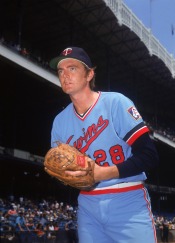 This year's Hall of Fame vote signals the end of the great Bert Blyleven debate, as the right-hander finally got in to the Hall of Fame.
It was long a debate that had grown old and, thankfully for Blyleven, ended in what is his rightful place in Cooperstown.
Blyleven's case shows the power of the internet and its influence on what is a membership slow to movement, the BBWAA electorate. Blyleven started with 17 percent of the vote in his first year of the vote and 15 percent in the second, all the way to more than the required 75 percent this season, his 14th year on the ballot.
Maybe that's a bit of hope for the likes of Barry Larkin, Tim Raines and Alan Trammell, but the "was he good enough" debate has officially become passé.
With the exclusion of Jeff Bagwell and Rafael Palmeiro, the BBWAA voters are now voting on morality over baseball.
I'm as big of a supporter of the BBWAA and its election as anyone you'll find without a vote. In its defense, I offer only the Gold Gloves (voted on by coaches and managers), All-Star starters (fans) and the Veteran's Committee for the Hall of Fame which has kept Marvin Miller out. But on this latest test, the BBWAA voters have failed.
Jeff Bagwell has no-doubt Hall of Fame numbers, he also has the aura so many ask for in their voting. When he was at the plate, he didn't look out of place in Cooperstown. Instead, he's on the outside because of suspicions, not facts. As journalists, we are supposed to write what we can prove. Nobody has been able to prove anything about Bagwell other than what he produced on the field.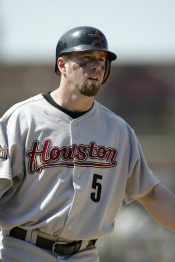 For too many writers, the voting is based too much on their own insecurities for how they did their job. They wish they'd been able to break the big story -- or even look good in retrospect by throwing out a suspicion -- and are using that to now stand a ground, despite having no ground on which to stand.
Things will get even more interesting next year, as those focused on the Blyleven case will shift their focus to the suspected steroid users. There's no real compelling first-year eligible players next season (Bernie Williams, who will not be elected, is the biggest new name on the ballot), so it seems like the year that Larkin will be enshrined and we could even see great gains by the likes of Trammell and Raines. But that won't be the story.
Instead, we'll be looking at Palmeiro and Bagwell as test cases for the 2013 first-year nominees in Barry Bonds, Roger Clemens, Mike Piazza and Sammy Sosa. If this year's voting is a guide, the Hall of Fame will be without some of its greatest players in the next 20 years. Bonds and Clemens, in the discussion for the greatest of all time, could be left in the cold with Pete Rose signing autographs outside the Hall of Fame instead of having their picture hanging in it.
As Rose has found, a simple admission of guilt won't do. The voters want to serve as judge and jury, sentencing some of the best players of all time to a future without the Hall of Fame. Mark McGwire was judged for the first time since he admitted his steroid use last January. He went from 128 votes (23.5 percent) of the votes in his first year of eligibility in 2007 to 128 votes (23.7 percent) last season. This year his vote total went down, to 19.8 percent. Palmeiro -- one of just four players with 3,000 hits and 500 home runs -- garnered just 11 percent of the vote, while "whispers" kept Bagwell to 41.7 percent.
As tiresome as the Blyleven/Jack Morris debate had become it's about to get more contentious.
Here's the final voting
Name Votes Pct.
Roberto Alomar 523 90.0%
Bert Blyleven 463 79.7%
Barry Larkin 361 62.1%
Jack Morris 311 53.5%
Lee Smith 263 45.3%
Jeff Bagwell 242 41.7%
Tim Raines 218 37.5%
Edgar Martinez 191 32.9%
Alan Trammell 141 24.3%
Larry Walker 118 20.3%
Mark McGwire 115 19.8%
Fred McGriff 104 17.9%
Dave Parker 89 15.3%
Don Mattingly 79 13.6%
Dale Murphy 73 12.6%
Rafael Palmeiro 64 11.0%
Juan Gonzalez 30 5.2%
Harold Baines 28 4.8%
John Franco 27 4.6%
Kevin Brown 12 2.1%
Tino Martinez 6 1.0%
Marquis Grissom 4 0.7%
Al Leiter 4 0.7%
John Olerud 4 0.7%
B.J. Surhoff 2 0.3%
Bret Boone 1 0.2%
Benito Santiago 1 0.2%
Carlos Baerga 0 0.0%
Lenny Harris 0 0.0%
Bobby Higginson 0 0.0%
Charles Johnson 0 0.0%
Raul Mondesi 0 0.0%
Kirk Rueter 0 0.0%
-- C. Trent Rosecrans

For more baseball news, rumors and analysis, follow @cbssportsmlb on Twitter or subscribe to the RSS feed.