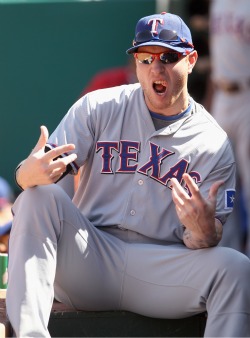 Today the Winter Meetings will conclude with the Rule 5 draft, and then a rush of general managers to the Orlando airport to get the heck out of Dodge.
The Rule 5 draft is at 9 a.m. ET and allows teams to poach the minor-league systems of other teams. Eligible players left unprotected from their team's 40-man roster can be picked for $50,000. To keep that player's rights, the selected player must stay on the selecting team's active major-league roster the entire season or be offered back to the original club for $25,000.
Last time the Winter Meetings were here at Disney World, the
Reds
ended up with
Josh Hamilton
(and
Jared Burton
). The Rule 5 has a history of a Hall of Famer (Roberto Clemente), MVPs (Hamilton, George Bell), Cy Young winners (
Johan Santana
) and All-Stars (
Dan Uggla
). More often, there are players who go to another team and don't last through spring training before being offered back to their original team or even released.
Last year, Jamie Hoffman was taken by the
Nationals
from the
Dodgers
and then sent to the
Yankees
as the player to be named in the trade for Brian Bruney. He was returned to the Dodgers late in spring training. In all, 17 players were taken in the major-league portion of the Rule 5 draft last season and three stuck.
Teams can pass on their turns, like the
Cardinals
are
likely to do
this season. Teams also can pick a player and then trade him, sometimes in a prearranged deal that is basically a team paying to move up the draft order. Most of the time, as when Hamilton was picked by the
Cubs
in a deal with the Reds, the team making the pick isn't even told who it's supposed to pick until its turn comes up. The
Pirates
,
Orioles
and
Rockies
have all been rumored to be looking to move up, most likely to acquire pitching.
Those players taken in the Rule 5 draft generally do one thing really well. That leads other teams to take the gamble, and also explains why they're not on a 40-man roster.
So here are some of the players being considered, and that one thing they do well:
Elvin Rivera, Mets: Throws 94-98 mph.
LHP Scott DIamond, Braves: A really good curveball (and he's a lefty).
LHP Nick Carr, Mets: Reliever throws in mid-90s (and he's a lefty).
RHP Craig Heyer, Yankees: Has walked just 14 batters in last two seasons (in 171 1/3 innings pitched).
RHP Adam Miller, Indians: He was the Indians No. 1 prospect for many years, but has had problems with finger injuries. He still throws hard, though.
RHP Wynn Pelzer, Orioles: Power bullpen arm.
RHP Aneury Rodriguez, Rays: He may be an outlier. He's young, 22, and was the No. 2 starter at Triple-A Durham and has pitched well. He does everything OK, even if he may only be a back-of-the-rotation starter, he's still go a chance to make a pitching-starved club -- and that's certainly not the Rays, which is why he's not been protected.
RHP Kyle Waldrop, Twins: Ground-ball specialist.
1B Danny Dorn, Reds: Crushes right-handed pitching.
3B Marquez Smith, Cubs: He's versatile and has some pop (20 home runs in 2010).
3B Brandon Waring, Orioles: Doesn't do much with a glove, but has good power, hitting 22 homers at Double-A Bowie while leading the league in strikeouts.
-- C. Trent Rosecrans
For more baseball news, rumors and analysis, follow @cbssportsmlb on Twitter or subscribe to the RSS feed
.