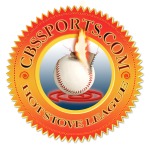 Through Nov. 26, CBS Sports' MLB Facts and Rumors will be profiling both free agents and trade candidates who will help stoke the fires of the Hot Stove League. Today: trade candidate Justin Upton.
Coming into this week's GM meetings, nobody would have expected that Justin Upton's name would be perhaps the most discussed. He's one of the Diamondbacks' most valuable pieces, and he's under contract through 2015 -- a contract that, if he's the burgeoning All-Star most think, is pretty reasonable. Why would they trade him?

It seems to have started as an innocent statement by new Arizona GM Kevin Towers, saying nobody is untouchable and he's always open to the possibility that a trade proposal will wow him. Somehow that quickly became "the Diamondbacks are shopping Upton," and teams apparently started blowing up Towers' phone with offers.

He's an exciting player, a fleet outfielder who has some pop, plays good defense and steals bases. The first overall pick in the 2005 draft batted .273/.356/.442 in 2010, his third full season, with 17 homers and 69 RBI. He's not without his potential drawbacks, including a propensity for strikeouts, a reputation as a streaky hitter and a shoulder problem that ended his 2010 season early. But he's just 23 with a huge upside, and he's very desirable for anyone looking for a young, impact bat (which is pretty much everyone).
STATS
2010: .273/.356/.442 in 571 PA, 18 SB, 17 HR, 9.3 UZR/150

Career: .272/.352/.471 in 1,728 PA, 41 SB, 60 HR, 2.4 UZR/150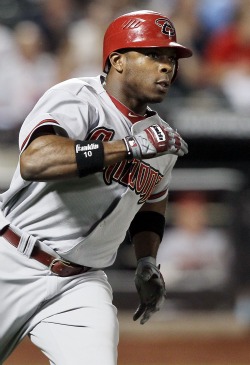 WHAT IT WILL TAKE

A lot. Towers is in a very powerful position -- he has potential trading partners willing to outbid each other, and has absolutely no motivation to make the deal if he doesn't get what he wants. His worst-case scenario is keeping Upton, and what's the problem with that? Towers was quoted as saying he wouldn't move unless he felt like the Diamondbacks would "win" the trade.
Some teams have reportedly quickly dropped out of the running after determining that the Diamondbacks' demands are over the top. It's clear from various reports that Towers wants a large package of players, including multiple guys who are either in the majors or major-league ready. The approach in a scenario like this is that if you can get six players, you're bound to hit on a couple of them.
WHERE HE COULD GO

It's been reported that more than half the teams in baseball at least made initial inquiries, and five supposedly
made strong pushes
to take the talks further. What's interesting in this case is that the have-nots can be players, because the currency is prospects and not money. His contract gives him no-trade protection from four clubs, though it's not clear which four.
The
Blue Jays
have been
mentioned
prominently, and have pitching prospects to offer. The
Red Sox
reportedly made a big initial push, but that might have cooled. The
Mariners
are interested but might not have the prospects. The
Orioles
and
Marlins
also pop up in rumors.
PREDICTION

Towers puts all these offers in his pocket and doesn't make a move at this point. If teams want Upton this badly now, Towers can afford to wait until midseason and see a) where the Diamondbacks are looking in terms of contending any time soon; and b) whether there are contenders who need a difference-making bat badly enough to really overpay. I'm betting he at least starts the season in Phoenix.

-- David Andriesen
For more baseball news, rumors and analysis, follow @cbssportsmlb on Twitter or subscribe to the RSS feed.