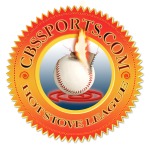 Through Nov. 26, CBS Sports' MLB Facts and Rumors will be profiling both free agents and trade candidates who will help stoke the fires of the Hot Stove League. Today covers first baseman Adam Dunn.
As a Cincinnati resident and former Reds beat writer, I can tell you there are few players in the game today as polarizing as Adam Dunn. Bring up his name, and you'll hear a spirited opinion -- and nothing really in the middle. He inspires love or hate, very little in between.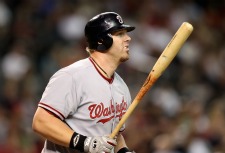 There's plenty to like about Dunn, he gets on base (a career .381 OBP) and he hits home runs in bunches, 354 since coming up to the big leagues at the end of the 2001 season. He's hit at least 35 home runs in each of the last seven seasons, only seven players have done that in their career -- Alex Rodriguez (11), Sammy Sosa (10), Rafael Palmeiro (9), Jimmie Foxx (9), Ralph Kiner (7) and Babe Ruth (7). Dunn is tied with Albert Pujols with a home run every 14.05 at-bats, behind Mark McGwire (10.61), that Ruth guy (11.76), Ryan Howard (12.79), Barry Bonds (12.92) and Jim Thome (13.55). Dunn's has also played in at least 152 games in all but one of his nine full seasons in the big leagues.
On the negative side is his glove. No matter where he's played, left field or first base, Dunn has been a liability, and that's being kind. And then there's the strikeouts. He does it a lot, as in 199 last season and 1,632 in his career. He's struck out at least 164 times in each of his full seasons. Those who love batting average aren't going to get a lot of that with Dunn. And then there's the ol' J.P. Ricciardi accusation of Dunn not liking baseball.

STATS
2010: .260/.356/.536 in 648 plate appearances with 38 home runs and 103 RBI
career: .250/.381/.521 in 6,065 plate appearances with 354 home runs and 880 RBI
WHAT IT WILL TAKE

Dunn reportedly denied a three-year deal from the Nationals, so it seems it'll take at least four years to sign him. He signed a two-year deal his last time on the market (following the 2008 season), when he took a pay cut to join the Nationals and hoping for big years and cashing in this off-season. Dunn made $12 million last season and that's probably a starting point, but it could end up taking a four-year deal worth somewhere around $50-$60 million.
WHERE HE COULD GO

Dunn would love to play for the Cubs and in Wrigley Field. The Cubs would love to have his bat in Wrigley as well. The guy flat mashes at Wrigley, where he's hit .282/.410/.651 with 25 home runs in 66 games during his career. The Cubs need a first baseman, but may not be able to afford the likes of Dunn.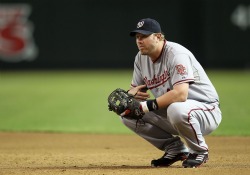 A sticking point with Dunn seems to be that he genuinely doesn't want to give up playing in the field. Dunn dislikes the designated hitter role, one that he's most suited to play. However, if he limits himself to just National League teams, he'll really hurt any bargaining power he has.

In fact, the best fits he has are with American League teams. If he does value the four-year and all the money he can get, Dunn's going to have to go to the American League.
Among the teams/fits are the White Sox and Tigers, two AL Central teams with money and a need.

The Rays are losing Carlos Pena and would upgrade offensively with Dunn, but take a huge hit defensively. And again, the money could be an issue with the Rays cutting payroll.
Then there's the Nationals, although that seems like a long-shot, which is a shame, because it's probably the best fit -- a National League team with money and need.
PREDICTION

Dunn took less money to avoid being pigeon-holed as a designated hitter for the rest of his career. At 31, it's Dunn's last chance to really cash in. To do that, he'll have to go to the American League. With that, it could be between the Tigers and White Sox. If I'm forced to make a choice, it may be the Tigers.
-- C. Trent Rosecrans
For more baseball news, rumors and analysis, follow @cbssportsmlb on Twitter or subscribe to the RSS feed.