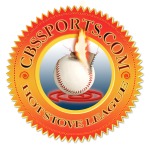 Over the next three weeks, CBS Sports' MLB Facts and Rumors will be profiling both free agents and trade candidates who will help stoke the fires of the Hot Stove League. Today, free agent Jayson Werth.
Jayson Werth is one of the stranger free agents to come around, considering he just seems to be peaking right now, but is 31. He's been healthy the last two years, but has struggled with injuries in the past (including knee injuries) and didn't become a full-time starter until he was 29. His average, on-base percentage and slugging percentage have all improved each of the last three years, and while his home runs were down in 2010, he hit 46 doubles. Werth is also a good defensive outfielder and can play all three, but is best in right.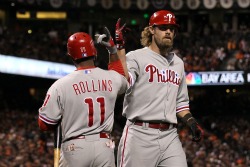 STATS
2010: ..296/.388/.532 with 27 home runs, 85 RBI
career: ..272/.367/.481 with 120 home runs, 406 RBI
LAST CONTRACT
Werth avoided arbitration in 2009, signing a two-year deal worth $10 million, plus a $1 million signing bonus.
WHAT IT WILL TAKE
Werth is represented by Scott Boras, who apparently is looking for "Matt Holliday" money, meaning a seven-year deal worth $120 million. I'm not one to doubt Boras' ability to screw some team into that kind of long-term investment, but I'm just not sure anyone will bite, especially considering Werth will be 32 next May, and then would be 39 at the end of a seven-year contract. A more realistic goal could be
Jason Bay
's four-year, $66 million contract. In the end, I'd guess he gets something in between, maybe five years and $85 million?
WHERE HE COULD GO
Carl Crawford
seems to be a better fit for the
Red Sox
, but if they can't land him, Werth is a good backup plan.
J.D. Drew
is a free agent after 2011, one of the two could shift to left
There have been reports that the
Yankees
don't have much interest in Werth or Crawford, but you can never count the Yankees out of a free-agent chase.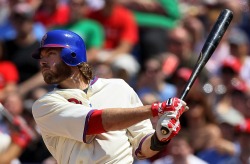 Werth would be an upgrade for the
Giants
' offense, and also would help out on defense.
The
White Sox
and
Tigers
seem like places he'd fit as well, with both of those teams certainly looking to spend a little dough. He could also be a fit in Anaheim, if the
Angels
don't land Crawford. But being a Boras client could make him less appealing in Anaheim.
The
Padres
reportedly had talks with the
Phillies
about a trade for Werth before the trade deadline, but if the Padres can't afford to keep
Adrian Gonzalez
around, it seems unlikely they can pay the price that Boras will demand.
One team that doesn't seem to be a fit is the Phillies, who are prepared to move on with
Domonic Brown
as their right fielder.
PREDICTION
Werth won't sign anywhere quickly. He'll be tied to what happens with Crawford, which will set a ceiling to his contract demands, as well as eliminate the bidding teams by one. If Crawford goes to Anaheim, Werth would be a fit for the Red Sox, signing a five-year deal to go to Boston.
-- C. Trent Rosecrans
For more baseball news, rumors and analysis, follow @cbssportsmlb on Twitter or subscribe to the RSS feed.