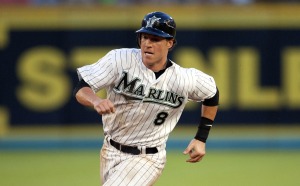 Chris Coghlan
finally on the mend and has been cleared to do some light jogging after repairing a torn meniscus.
These types of surgeries are generally arthroscopic with a quicker rehab timeframe, but it was discovered that Coghlan's injury was more severe, requiring more work to repair the meniscus. That's why he's only able to lightly jog now although the surgery was back on Aug. 1.
That won't impact the 2009 Rookie of the Year's availability for spring training, however, to hear him tell it to
MLB.com
.
"The doctors and everybody are saying that I'm on time for where they say I should be. Everything is going great," he said. "I don't have any complaints. It's just a long rehab. For my life and for baseball down the road, it's actually better that I had to get it repaired."
Coghlan was referring to the fact that in arthroscopic surgery, a piece of the meniscus is actually snipped off while in his surgery, the entire meniscus was stitched back together.
Coghlan, who came up through the minors as a second baseman, has been a left fielder in the majors due to
Dan Uggla
blocking him at second. After hitting .321/.390/.460 with 31 doubles in 565 plate appearances in 2009, Coghlan got 2010 off to a poor start before suffering an injury, finishing with a .268/.335/.383 line. Coghlan had a scorching July with a 1.105 OPS before struggling in August in advance of the injury.
Coghlan won't be returning to left for 2011, however, as Florida plans to move him to third base.
"They told me third base, and I haven't heard otherwise," Coghlan said. "There are a lot of things that can still happen. You never know. But as of right now, the tentative plan is third base."
The
Marlins
may change that plan in the future, as the club has the whole offseason to put together a new team and are
considering promoting Matt Dominguez
to play third. However, Coghlan is their best bet to produce at the hot corner in 2011, so bank on that being where the 25-year-old ends up.
-- Evan Brunell
For more baseball news, rumors and analysis, follow @cbssportsmlb on Twitter or subscribe to the RSS feed.