Oh, as we complain again and again about the Baseball Writers Association of America and their votes for MVP and Cy Young, the coaches and managers once again show they're not a better committee to choose the biggest awards in the game.
Exhibit A:
Derek Jeter
, Gold Glover.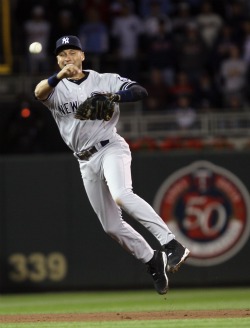 Yep, Jeter won the Gold Glove again on Tuesday in a vote from American League coaches and managers. Derek Jeter with a -5.4 UZR/150, -13 runs saved and -17 plus/minus, was determined by the coaches and managers to be the best defensive shortstop in the American League. Among qualified players, only Tampa Bay's
Jason Bartlett
(-13.8) and Kansas City's
Yuniesky Betancourt
(-9.2) had a worse UZR/150.
Sure, Jeter had just six errors, but the idea that errors tell you much about a player's defense is preposterous. It tells you who is able to make the routine plays best. That's well and good, but it has little to do with the best all-around defensive player. Jeter has the range of, well, a mediocre 36-year old defensive player. (You know how many times you see Jeter go into the hole and doing that leaping throw, but doesn't quite get the runner? Oh, what a gutty play, he doesn't get an E. Thing is, most other shortstops don't have to make that jump and get the runner.)
Who would be a better choice? Well, who wouldn't?
The Fielding Bible Awards had Chicago's
Alexei Ramirez
as its third-place finisher, and best among AL players. Ramirez's UZR/150 was 10.1, he had 16 runs saved and a 20 plus/minus.
In UZR/150, Ramirez was trailed by Oakland's
Cliff Pennington
(8.8), Baltimore's
Cesar Izturis
(5.8) and Texas'
Elvis Andrus
(0.3), among qualified players.
The Gold Gloves have been one of those openly mocked selections since a designated hitter won one in 1999 (Rafael Palmeiro). Defense, even in this day and age of advanced statistics, is still highly subjective, with reputation playing more of a role than production. That's what the Gold Glove tells us every year. It also tells us the coaches and managers have as much of a Yankee bias as the media is accused of having.
Alex Rodriguez
was the only Yankee infielder not to be awarded, even though the advanced statistics liked Oakland's infield much more.
Mark Teixeira
won at first base, even though Oakland's
Daric Barton
was likely the best choice.
Mark Ellis
had the top UZR/150 among second basemen (12.7), but the winner was
Robinson Cano
(-0.9). Also deserving at second would be Minnesota's
Orlando Hudson
(12.0 UZR/150). Hudson was the top AL vote-getter in the Fielding Bible Awards, while Ellis was behind him.
As for the outfield, that's probably where a Yankee was actually left off. Left fielder
Brett Gardner
had the best UZR/150 of any qualified outfielders with a 27.9. He also won the Fielding Bible Award in left field.
American League Gold Glove winners
P
Mark Buehrle
,
White Sox
C
Joe Mauer
,
Twins
1B Mark Teixeira,
Yankees
2B Robinson Cano, Yankees
3B
Evan Longoria
,
Rays
SS Derek Jeter, Yankees
OF
Carl Crawford
, Rays
OF
Franklin Gutierrez
,
Mariners
OF
Ichiro Suzuki
, Mariners
-- C. Trent Rosecrans
For more baseball news, rumors and analysis, follow @cbssportsmlb on Twitter or subscribe to the RSS feed.