Brad Ziegler
, the right-handed sidearmed reliever, is the lucky winner of the Super Two cutoff date this year with two years, 122 days of service time, according to the list sent to agents by the MLB Players Association. Super Two qualify for salary arbitration early.
The cutoff this season is lower than it has been in recent years, perhaps indicating that teams are getting more and more careful about how soon they bring up players in attempts to put off arbitration as long as possible.
Leading the list is Tampa Bay's
Evan Longoria
, who has already been signed to a long-term deal, a deal that's looking better and better by the day for the
Rays
.
Here's the list: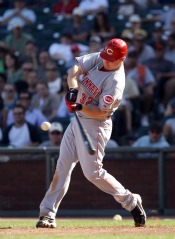 Player 2009 Club Total Service
Evan Longoria Tampa Bay 2.170
Jim Johnson
Baltimore 2.165
Felipe Paulino
Houston 2.163
Josh Fields Kansas City 2.159
Kyle Kendrick
Philadelphia 2.159
Sean White Seattle 2.156
Ian Stewart
Colorado 2.154
Dana Eveland
* Pittsburgh 2.152
Luke Hochevar
Kansas City 2.151
Armando Galarraga
Detroit 2.148
Burke Badenhop Florida 2.143
Ross Ohlendorf
Pittsburgh 2.139
Chris Perez
Cleveland 2.136
Alberto Gonzalez
Washington 2.135
Jensen Lewis Cleveland 2.133
Darren O'Day
Texas 2.128
Jay Bruce
Cincinnati 2.125
Chase Headley
San Diego 2.123
Travis Buck
Oakland 2.123
Brad Ziegler Oakland 2.122
*outrighted
It appears that this is the best news for Bruce, O'Day and Perez, who will likely get the biggest bumps in salary from 2010 to 2011.
Of all those players, Bruce (pictured) may have had the best season, hitting .281/.353/.493 with 25 home runs. Perez recorded 23 saves and had a 1.71 ERA as the closer for the
Indians
once
Kerry Wood
was sent to the
Yankees
. O'Day was a valuable member of the
Rangers
' bullpen, appearing in 72 regular-season games and 11 postseason games. During the Regular season, he had a 2.03 ERA.
All three of those players made $440,000 or less last season.
-- C. Trent Rosecrans
For more baseball news, rumors and analysis, follow @cbssportsmlb on Twitter or subscribe to the RSS feed.