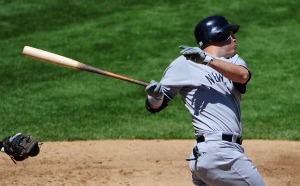 Everyone and his mother has been predicting that
Adam Dunn
will end up as the
Cubs
first baseman in 2011.
GM Jim Hendry is here to tell you "not so much."
As the Chicago Sun-Times writes, GM Jim Hendry is handicapped by a budget that doesn't allow for big free agents. That means no Adam Dunn, or even no
Derrek Lee
return.
What does it mean? The unexciting
Nick Johnson
, for one.
Johnson, who has been injured seemingly every year, hit for a poor .167/.388/.306 line in 98 plate appearances for the
Yankees
before succumbing to injury. The year before was split with the
Nationals
and
Marlins
, amassing 574 PA of a .291/.426/.405 line. He would give the Cubs someone who knows how to work a walk, but doesn't do much else and is injured all the time to boot.
Hardly an inspired choice. Bringing in Johnson is not a bad idea, but not pairing him with a viable backup is another thing entirely. But again, Hendry only has so much money to work with. The payroll of 2010 landed at $144 million, per Cot's Contracts, and falls to $102.5 million guaranteed for 2011, which includes
Aramis Ramirez
's $14.5 million player option he exercised Thursday.
Ah, but there's arbitration to worry about, so the Cubs could easily be at $115 million when all that is said and done. Add in that owner Tom Ricketts has said payroll will drop, and there's not much flexibility for Hendry.
The Cubs plan to add a first baseman, starting pitcher and right-handed reliever, so unlike recent years, it sounds like the North Siders will be playing it quiet.
-- Evan Brunell
For more baseball news, rumors and analysis, follow @cbssportsmlb on Twitter or subscribe to the RSS feed.