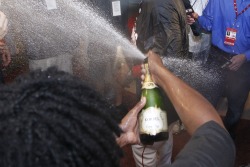 Cincinnati
Reds
fans hadn't been able to celebrate a postseason berth in 15 years, and after a clubhouse celebration,
Jonny Gomes
and other Reds brought some of their champagne out of the clubhouse to bring the fans in to their celebration. As Gomes sprayed the bubbly into the stands, several fans lapped it up, feeling a part of the celebration for the National League Central title.
That will be against the rules from now on,
the New York Times writes
.
Last week Major League Baseball made new rules for postseason celebrations -- the teams must limit champagne, offer a non-alcoholic version, banned beer and other alcoholic drinks and teams are no longer allowed to bring drinks on the field.
"We have concerns that these celebrations that have traditionally been held not get out of hand," said Rob Manfred, MLB executive vice president. "This is an issue that we periodically revisit."
Former commissioner Fay Vincent told the
Times
he tried to limit the postgame celebrations.
"I think the celebrations are unattractive in large measure because they involve alcohol," Vincent said. "It's ritualized, and I think it's silly."
We have seen some changes this season, as the
Rangers
celebrated their postseason berth with ginger ale for
Josh Hamilton
, who has had issues with alcohol. Of course, they also had their Hamilton-less celebration with the booze, too. In 1999, the
Yankees
celebrated with a non-alcoholic champagne substitute out of respect for Darryl Strawberry.
-- C. Trent Rosecrans
For more baseball news, rumors and analysis, follow @cbssportsmlb on Twitter or subscribe to the RSS feed.