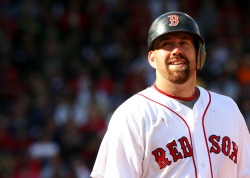 As the University of Cincinnati baseball team readied for a home run derby as part of the school's homecoming celebration, the most famous alumnus of the Bearcat baseball team said he could participate if he wanted to do so.
Red Sox
first baseman
Kevin Youkilis
said he's been hitting and throwing and been cleared to play baseball after thumb surgery ended his season in August.
"It's great, it's pretty much 100 percent, it's real close to 100 percent in strength," Youkilis said. "I'm hitting, throwing, all the good stuff. So I'll be ready to go -- I'm ready to go now to play baseball, but there's no baseball to be played."
Youkilis said he was now going through his normal offseason routine, following his hometown Bearcats and Bengals on the football field, while he's turned into a Celtics and Bruins fan in pro basketball and hockey. He was at Tuesday night's NBA opener between the Heat and the Celtics, was ready to go to Saturday's UC-Syracuse game and was at least planning on tailgating for Sunday's Bengals-Dolphins game at Paul Brown Stadium.
"I don't have a bad life," he said. "I've got one of the best lives around, I think. I can't complain."
One thing he's not doing is worrying about the Red Sox's offseason moves. Whatever happens, he said, he'll be ready for it -- including a return to third base. Last year's third baseman,
Adrian Beltre
, is a free agent and may be tough for the Red Sox to resign. If he doesn't, Youkilis would be an option at third base and the team could sign or trade for a first baseman.
"I'm preparing myself to play third base, 'cause if you prepare yourself to play third base and play first, it's an easy transition," Youkilis said. "I always prepare myself mentally to play third. I'll probably take more ground balls this year. Hopefully I'll find out sooner rather than later.
"I love third base. I love playing it, I enjoy it, it's a lot of fun. I'd love to play third base, but wherever the team needs me, I'll play."
Check out the video below where he talks more about his thumb and his clean-shaven look.
-- C. Trent Rosecrans
For more baseball news, rumors and analysis, follow @cbssportsmlb on Twitter or subscribe to the RSS feed .