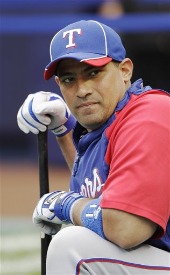 Let's face it, most people's personal blogs are really boring and self-indulgent. But it gets a lot more interesting if it's written by a guy who's playing in the World Series, against his former team.
Bengie Molina
has blogged for years, and
picked up again
in earnest when he was traded from San Francisco to Texas on July 1. He's pretty honest and funny, and it's a good read. Some recent highlights:
* On hitting for the cycle July 17, ending with just the sixth triple of his career: "I saw the fielder jump and I thought he was going to catch it. The ball hit his glove and bounced off into the perfect spot. I said to myself, 'I ain't stoppin' for nothin'! This might be your only chance at this!' ... I will never forget that moment for the rest of my life."
* On his big homer against the
Yankees
in the ALCS: "When I warmed up the starting pitchers during our games in Yankee Stadium, fans near the bullpen chanted, "Ben-gie's fat! Ben-gie's fat!'' It was kind of funny, of course. They sounded like fourth-graders in the playground. The best part was they chanted in English AND in Spanish to make sure I was absolutely clear about what they were saying. So to drive in the go-ahead runs in front of those fans put a smile on my face."
* On being at the bottom of the dogpile after the
Rangers
clinched: "I could hardly breathe -- that's a lot of poundage in that pile. ... I can't move a muscle -- and my face is smashed into [Neftali] Feliz's Afro. That was nasty."
* On seeing his former teammates Tuesday on the field on workout day: "All the
Giants
were walking in a line out to an area beyond right field where they were going to be interviewed by the media. Every guy stopped to hug me and tell me how great it was see me and could I believe how it all worked out. It was such a great feeling."
Apparently the Bay Area love for Molina extends beyond the clubhouse. He got a big cheer from the crowd when he was introduced as part of the Texas lineup before Game 1, and tapped his chest in response.
-- David Andriesen
For more baseball news, rumors and analysis, follow @cbssportsmlb on Twitter or subscribe to the RSS feed.