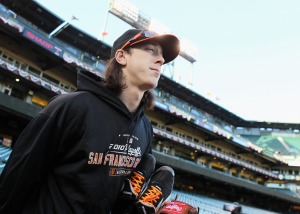 When University of Washington pitcher
Tim Lincecum
entered the 2006 draft, most teams weren't sure what to make of him. His small frame, bizarre mechanics and unconventional training methods -- he never iced his arm and threw a huge number of pitches -- scared off a lot of teams (including his hometown
Mariners
, who had the No. 5 pick) who figured his physical breakdown was inevitable.
The
Rangers
, with new general manager Jon Daniels, had no such misgivings. They wanted him. But they were picking 12th, and they waited nervously to see whether he'd be available.
"We had done pretty good research and our folks had a pretty good handle on how the picks in front of us would fall," Daniels told Evan Grant of the
Dallas Morning News.
"There was only one question. San Francisco at 10. The
Giants
did a really good job of not playing their hand.
"On draft day, we had already pulled Lincecum's name and were ready to call it. When the Giants drafted, his draft number started with an 'R' for 'Redraft' and then there was zero and three more digits. Then the Giants started to call the number and there was no zero and I thought we got him. Then they called the name. I remember asking our guys if we could have the pick nullified for not calling the zero. Apparently, you didn't need to call the zero in the draft number."
The Rangers ended up selecting high school pitcher Kasey Kiker, who struggled at Double-A this season.
But most of Daniels' moves have worked out. Check out Grant's
interesting breakdown
of exactly how he built this team from "strategic teardown" mode to pennant winner despite havong one of the smallest payrolls in the game. If there's one postseason award that's a dead solid lock, it's Daniels as executive of the year.
-- David Andriesen
For more baseball news, rumors and analysis, follow @cbssportsmlb on Twitter or subscribe to the RSS feed.