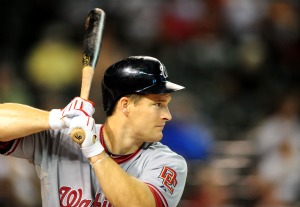 If the
Nationals
are smart, they'll sign
Josh Willingham
to a long-term deal, agent Matt Sosnick said Thursday.
"He's going to [be] an incredibly successful free agent after this year," Sosnick told the
Washington Post
. "But it's totally in their hands. We will defer to what they want to do. That's the process. We respect that. If they want to do a one-year deal, we'll do a one-year deal."
Willingham is due for his final year of arbitration and the Nationals may not want to commit long-term dollars to the left fielder?
Why?
Because Willingham has played in 102, 133 and 114 games respectively the last three seasons as the slugger develops a reputation for being injury-prone. He required left knee surgery in mid-August that ended his season after bashing 16 home runs in 370 at-bats as a 31-year-old. His career OPS .841, so he can help pretty much any team and was only traded by the
Marlins
due to hitting arbitration. That deal in retrospect looks poor, as Willingham's salary has remained very reasonable and his production has remained at a high level.
With his blend of plate discipline and power and improved defense, he should be a sexy name on the market should it get that far. But Willingham doesn't want it to.
"I think that if he had his druthers, he'd sign a deal that took him through this year and into the next couple years," Sosnick said. "He loves it there. If he had his druthers, he'd finish his career in Washington."
Willingham's salary in arbitration is likely to hit the $6 million figure after making $4.6 million in 2010. With that raise, he may also be asked to switch positions to first base. The Nats are unlikely to bring
Adam Dunn
back and may want someone with strong defense in left field, not merely adequate like Willingham's. The ex-Marlin came up through the minors playing third so should be able to handle a switch.
"He'd be open to doing anything he could for the team," Sosnick said. "They could use him out of the bullpen."
-- Evan Brunell
For more baseball news, rumors and analysis, follow @cbssportsmlb on Twitter or subscribe to the RSS feed .