RZ
The ALCS is set, and the Yankees with 27 World Series rings will do battle with a team that just won its first postseason series -- ever.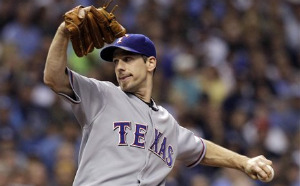 That may seem like an obvious advantage, but both teams are rather evenly matched in starting pitching. Although the Yankees will be able to roll with a normal format of the ace in the first game, the Rangers will have to push Cliff Lee (pictured, right) back to the third game.

Game 1 will pit Yankees ace CC Sabathia against fellow lefty C.J. Wilson. While Sabathia holds an edge, it's not a major one as Wilson has his own successful year in the books. Game 2 will see Andy Pettitte go against Colby Lewis. Lewis holds the edge in an ability to go deep in the game and actually has a better xFIP than Pettitte (3.93 to 4.05) but it's close enough that you can't discount Pettitte's pitching from the south and his postseason credentials. Another close matchup.

Then, Lee goes against Phil Hughes. Easy advantage for Texas and Lee, but Phil Hughes is no slouch either. Then you get into the soft underbelly of both teams in Game 4 starters of A.J. Burnett and Tommy Hunter.

Even though the Yankees have a chance to jump out to an early lead, the Rangers will also benefit from being able to throw Lee in Game 3 -- oftentimes a game that sets the tone for the rest of the series -- and a do-or-die Game 7. Unless the Yankees bring CC Sabathia back on three days' rest for Game 7 (and that sounded unlikely given Joe Girardi's comments on the subject), the Yankees might be underdogs going into a possible Game 7.

The starting pitching matchups remain close enough that each team's offense will have to step up in order to guarantee victory -- and each team goes different routes when it comes to offense.

The Yankees paced baseball in runs scored with 859, but the Rangers weren't too far behind at fifth with 787. However, both teams went in very different ways when it came to scoring these runs. The Yankees live and die by plate discipline, also pacing first in the majors in on-base percentage.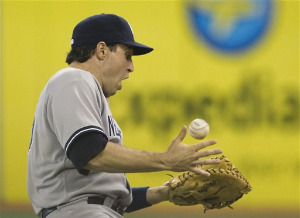 Mark Teixeira (left) paced the team with 93 walks, but Brett Gardner, Derek Jeter, Alex Rodriguez, Jorge Posada, Nick Swisher, Robinson Cano and Curtis Granderson also cracked or exceeded the 50-walk plateau. That's eight of nine starters, if you weren't counting.

Ah, but the Rangers have their own weapon: a team batting average of .276 paced the league with both Michael Young (.284 batting average) and Josh Hamilton (.359) tying for a team lead with 186 hits. Vladimir Guerrero and Nelson Cruz also topped the .300 batting average mark, so this team can make contact.

The Yankees have the advantage of running up the pitch counts of the Rangers pitchers which will force Texas to dip into what has already been an overworked bullpen. On the other hand, an aggressive approach at the plate might be what it takes to take out the Yankees starters -- but only as long as the club doesn't expand its strike zone. Given the team is 18th in total walks, that could end up a real concern.

Fielding is the last major impact there can be on a series. The Rangers have a team UZR/150 (Ultimate Zone Rating) of 1.9, but the Yankees lurk just behind at 1.8. In defensive runs saved, the Rangers have one to their name, while the Yankees have exactly zero. So even the pitching is evenly matched up.

Both teams are too close in offense, pitching and defense to call any victor. Given the Yankees have the edge in plate discipline and power, that might be enough to tip the scales in favor of New York in what is shaping up to be a battle between two evenly-matched teams.


-- Evan Brunell
For more baseball news, rumors and analysis, follow @cbssportsmlb on Twitter or subscribe to the RSS feed .