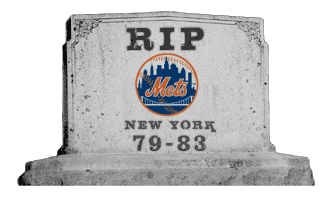 All eyes will be on eight teams starting Oct. 6 for yet another chapter of postseason baseball. As the sports world waits for the crowning of a new (or as the Yankees hope, repeat) champion, 22 other teams are busy preparing for spring training. What went wrong for these teams, and what does 2011 hold? MLB Facts and Rumors here at CBS Sports will be answering those questions through all of October. First up, the Mess -- er, Mets.
Since coming one game away from the NL pennant in 2006, the Mets have morphed into a squad of underperforming and overpaid players with controversy dogging the team every step of the way.
Owners Fred and Jeff Wilpon cleaned house as the 2010 season handed New York its second straight losing season. General manager Omar Minaya, despite a deal taking him through 2012, was shown the door along with skipper Jerry Manuel (the two are shown with Jeff Wilpon in the below picture to the right). The only problem? Minaya's maneuverings will handicap his successor for at least one season.
WHAT WENT WRONG

You name it and it happened in New York.
Johan Santana
fought off rape allegations prior to the season, posted his worst strikeout rate since 2001 and then went down with a shoulder injury that renders him questionable for 2011.
Francisco Rodriguez
also had his own problems with women, striking his (now ex-) girlfriend's father and being placed on the disciplined list. His return to the Mets is highly questionable even as he posted one of the better seasons of his career.
Neither
Jason Bay
or
Carlos Beltran
had lady troubles but they had injury troubles, with Bay's first year of a four-year, $66 million contract ending with just six home runs before a concussion ended his season. Beltran angered ownership by having unsanctioned knee surgery prior to the season, returning for an unsavory second half that has prompted calls for his trade.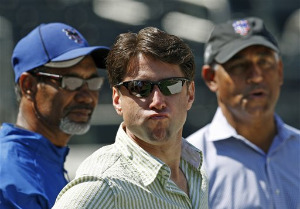 Meanwhile, the onerous contracts of
Oliver Perez
and
Luis Castillo
just wouldn't go away. Perez constantly refused assignment to the minors and eventually became a mop-up reliever who only pitched on the road... all for $12 million. Luis Castillo spent the season becoming a bench player by the time for the low, low price of $6.25 million.
Let that be a lesson: Sign for lots of money with the Mets and expect that things will go very, very wrong for you.

WHAT WENT RIGHT

All was not lost in the Big Apple, however. Franchise star
David Wright
rebounded from 10 home runs in the inaugural season of Citi Field to bash 29 and cement his status as one of the best players in the game today.
Wright found a new person to throw to across the diamond as the Mets imported rookie
Ike Davis
after Mike Jacobs flamed out. Davis was promoted aggressively, debuting on April 19 and tossing up a .264/.351/.440 line in 601 PA, contributing 19 home runs. Along with Davis, youngster
Josh Thole
established himself as a permanent starter with the Mets. Thole will enter 2011 as the starting catcher and while he has no power to speak of, has enough contact and plate discipline skills to stick as a starter.
Meanwhile,
Angel Pagan
took the opportunity that Beltran's injury afforded him and ran with it to the point where many feel the switch-hitter should play center field with Beltran shifting to left in 2011. Pagan finished at .290/.340/.425 with 37 stolen bases in 633 PA.
The Mets also benefited from knuckleballer
R.A. Dickey
, originally signed as depth but exploding for a 2.84 ERA in 26 starts and one relief appearance. Dickey, at 35, has one more year of club control and should have a rotation spot locked up next season along with
Jonathon Niese
. Niese, 23, posted a 4.20 ERA in 30 starts in his first taste of full-time major league action.
HELP ON THE WAY
The Mets lost the services of Dan Murphy all season, but he should be back in action for 2011 and could be valuable to the Mets coming off the bench. While Murphy was slated to start at first base for the Mets in 2010, Davis (photo below, left) now has that position sewn up, and Murphy can't impede on Jason Bay's haunt. Thus, Murphy is learning to play second base and should compete for the position next season although it's more likely Murphy ends up a jack-of-all-trades, filling in all over the diamond.
More encouraging than Murphy's return is how well set-up the Mets seem to infuse young pitching into the team.
Dillon Gee
captured the hearts of headline writers across the nation while
Bobby Parnell
flashed heat that may make him the club's next closer. In addition, Jenrry Meija put aside an idiotic attempt to put him in the bullpen to return late in the year as a starter. Mejia may or may not open 2011 in the rotation, but his inclusion on the big-league roster will happen at some point in 2011 and put him on the fast track towards being a top pitcher.

EXPECTATIONS FOR 2011


The Mets will always expect to contend, especially with a payroll that will have no trouble clearing $100 million. Even if the Mets are spendthrifts, the 2011 payroll is already on the hook for at least $108 million guaranteed, although that's in actual payroll, not Collective Bargaining Agreement-payroll, used for the luxury tax, that calculates a contract's average annual value and not actual salary earned.
This mark is achieved using guaranteed salaries only, which means the payroll will take off once
Jose Reyes
' $11 million option is exercised and arbitration payouts roll in for
Mike Pelfrey
and Pagan -- plus the litany of other holes that need to be plugged. So yes, the Mets and its fans will expect to contend for a division crown. And really, with the talent on the team, there's no reason not to expect to be in the thick of things. Unfortunately, logic dictates that the Mets will finish around the .500 threshold, and expectations behind the scenes will reflect that.
With so much money committed to injured, questionable or dead weight players, the incoming general manager will be forced to hold the status quo with an eye towards a big impact and transition in 2012.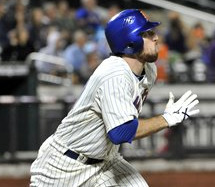 SUGGESTIONS FOR 2011
Even though the new general manager will have his or her hands tied for the most part, there are still two areas that need to be addressed if a dream season is to happen. The first is to get a capable second baseman and slot Tejada in the minors. There are three free-agent second basemen that could pan out include
Bill Hall
,
Orlando Hudson
and
Juan Uribe
. All are coming off solid seasons and will be affordable.
With Santana out for at least the first half, the Mets need to go after a solid starter to plug the breach behind Dickey, Niese, Pelfrey and likely Dillon Gee. The Mets shouldn't go crazy for a replacement, but could absolutely find a solid pitcher on a one-year deal.
Jon Garland
has done this in recent years and keeps throwing up value. Other names include Chris Young, who dominated for the
Padres
down the stretch after missing much of the season to injury.
Lastly, the bullpen needs to be addressed. Whether Francisco Rodriguez ends up back in Met threads or not, the Mets have no surefire options behind him unless one counts Bobby Parnell who should set up next season.
Pedro Feliciano
and
Hisanori Takahashi
are set to be free agents, while the rest of the relievers are flotsam.
The Mets need to go out and find someone with a history of closing but who is open to setting up as a way to minimize Rodriguez so his $17.5 million option does not vest. That includes players such as
Octavio Dotel
,
Jon Rauch
,
Kerry Wood
,
J.J. Putz
and
Koji Uehara
.
2011 PREDICTION
The Mets could surprise prognosticators next season if the new GM clears out the chaff and brings in depth at second and the bullpen. So much went wrong for the Mets that you have to bank on a regression to the mean making the club better. The Mets should hover over .500 and if just a few things break in their favor, could contend for a postseason spot.
-- Evan Brunell
Join MLB Facts and Rumors at 1:30 p.m. on Wednesday to chat live during the Rangers-Rays game!

For more baseball news, rumors and analysis, follow @cbssportsmlb on Twitter or subscribe to the RSS feed .