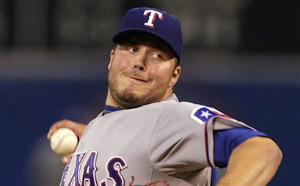 Cliff Lee
has never started a game on three days' rest.
And he won't.
Manager Ron Washington reversed course Thursday night, saying that
Tommy Hunter
(pictured) would be the No. 4 starter with Lee staying on normal rest.
"The numbers didn't look good," said manager Ron Washington to MLB.com . "We're going to use our whole pitching staff."
MLB.com looked at statistics based on three days rest in the postseason over eight years. It found that a pitcher has started a playoff game on three days' rest 51 times, ending up with a 13-20 record and 5.01 ERA. On four days' rest, pitchers have a 4.18 ERA and that drops to 3.80 with five or more days off.
(Hopefully the Rangers used more informative statistics than these, but the general point remains.)
The Yankees used a three-man rotation but with all the off-days, were able to start pitchers on regular rest for the most part. Overall, six starts on three days' rest occurred, with the total ERA notching 6.30 with an average of five innings per start.
This opportunity has opened the door for the 24-year-old Hunter who has made 21 starts (and one bullpen appearance), posting a sterling 13-4 record along with a 3.80 ERA over 123 innings. In 112 innings last season, Hunter posted a 4.10 ERA in 19 starts. While he's pitching a bit above his true talent level, he's still a capable No. 4 starter.
"It's a great opportunity," Hunter said. "It's something I've looked forward to since the beginning of the season -- throw in the postseason. Now I'm getting that opportunity."
The Rangers will open the postseason on the road, giving Lee and No. 2 starter C.J. Wilson the honor of starting in either Yankee Stadium or Tropicana Field. Colby Lewis and Hunter will grab the home starts, freeing up Lee for a potential Game 5 back on the road.
-- Evan Brunell
For more baseball news, rumors and analysis, follow @cbssportsmlb on Twitter or subscribe to the RSS feed .