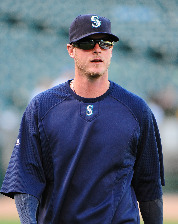 The
Rangers
could have a player on their postseason roster who at the moment has never appeared in a Texas uniform.
It's looking unlikely
Frank Francisco
, who's out with a mucle strain in his ribcage, will be ready for the first round of the playoffs. He hasn't thrown off a mound yet.
But the Rangers do have a reliever who's further along in the rehab process:
Mark Lowe
. The right-hander was the "other guy" the Rangers got in the trade for
Cliff Lee
, and at the time of the trade was about three weeks removed from surgery to repair a herniated disc in his back. He was expected to miss the rest of the season, but has made two appearances in Instructional League games and says he's good to go. Because he was on the 60-day DL at the roster deadline, he's eligible for the postseason roster.
"I haven't thought about my back in months," Lowe told
MLB.com.
"After three weeks out of surgery, I was feeling better than I ever have. My stuff is good. I've felt great. The ball is coming out nice and easy. My mechanics are good. I think I can go out and compete."
The Rangers activated Lowe from the DL on Wednesday, and plan to use him several times in their remaining regular-season games to assess whether he's ready to contribute in the postseason. Lowe is a hard thrower -- he hit 96 mph in rehab -- and a versatile arm out of the bullpen. Seattle bullpen coach John Wetteland said a full-strength Lowe would be an asset to his new team.
"He's just a consummate bullpen fit, that kind of piece," Wetteland said. "He's a character, very level-headed, things don't seem to rattle him, he's very grounded in his routine. [The Rangers] are going to be tough. It's a 'pen full of pretty strong arms. He will be a nice addition for them."
-- David Andriesen
For more baseball news, rumors and analysis, follow @cbssportsmlb on Twitter or subscribe to the RSS feed .