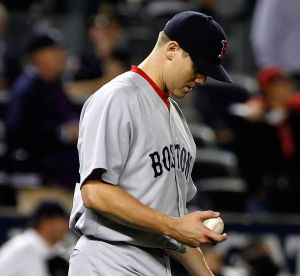 Jonathan Papelbon didn't mince words after blowing his American League-leading eighth save Sunday night
"Really rough tonight, considering the fact that I'm not only pitching against the hitter, I'm pitching against the umpire," Papelbon told the Boston Globe . "When you've got to do that against this lineup, you'll never be successful.''
At the center of Papelbon's issue was a strike that never was against Alex Rodriguez in the ninth inning that should have resulted in a strikeout according to Papelbon. Except it wasn't a strike according to umpire Phil Cuzzi, so A-Rod eventually walked to load the bases, setting up Robinson Cano's game-tying single.
"Just call the game. There's 27 outs. Call the game," Papelbon vented. "Don't let the crowd influence you, don't let the hitter influence you, don't call the pitch where the catcher catches it. Stay focused for 27 outs and call the game."
Anecdotally, players believe that umpires cater to the home crowd for reasons unknown but perhaps a subconscious aversion to being booed. That opens umps to criticism when things don't go the visiting team's way.
But wait. Despite what Papelbon said, he's not blaming the umpire. Look:
"I'm not blaming the umpire," Papelbon said.
Really?
"I could have definitely battled a little bit more out of that situation," he added. "I'm not one to complain about pitches, no, I'm not one to do that at all. But when you're pitching against an umpire and their lineup, nobody can win in that situation. It's impossible."
Manager Terry Francona wasn't as willing to heap blame om Cuzzi for Papelbon's struggles, saying he felt Mariano Rivera -- who also had a blown save in the game-- was squeezed as well.
"Thought the strike zone was tight, as it should be, to Mariano [Rivera] and Pap. Made 'em earn it, for both guys."
The latest blown save continues the season from hell for Paps, whose ERA is all the way up to 4.02 after never being higher than 2.65 -- which came in his rookie season when he started three games and relieved in an additional 14.
-- Evan Brunell
For more baseball news, rumors and analysis, follow @cbssportsmlb on Twitter or subscribe to the RSS feed .