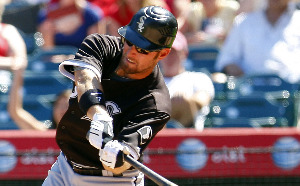 As the poster child for the failed DH-by-committee experiment in Chicago,
Mark Kotsay
is frustrated by the negative publicity.
"Anytime you have an unsuccessful season, the finger gets pointed in every direction that it can be,'' Kotsay
told the
Chicago Sun-Times
. "A failure? I think they're generalizing it by strictly just putting the number together.''
What number would that be? How about: 13.
That is, of 14 American League teams, the
White Sox
ranked 13th in RBI, only behind the offensively-inept
Mariners
, who have grabbed 56 ribbies from the position that doesn't field.
Overall, ChiSox DH's are hitting .244/.326/.392 with 17 home runs in 541 at-bats. That's not befitting a position that should be focused on hitting.
However, Kotsay wasn't ready to concede the idea was a failure, saying that between himself,
Andruw Jones
and the other full-time people that rotated through the DH spot, the committee delivered.
"We were able to give Paul [Konerko] the DH position and hopefully most people would say that the first base position was played quite well defensively [between Konerko and Kotsay],'' Kotsay said. "[
Juan Pierre
] was an iron man, so he played almost every day in left field. Right field with Carlos [Quentin], I mean Carlos played in as many games as he has in three seasons, so obviously [getting work as the DH] helped Carlos and his ability to stay on the field and stay healthy. Paul hasn't had an injury all season, he's been on the field and been healthy."
Konerko said in August that his days DHing were key towards feeling healthy and fresh as the season ends. Incidentally (or maybe not), Konerko is having is having a career season at age 34, with a .313/.394/.586 line in 612 plate appearances, bashing 38 home runs.
"All those things factor into the big picture. But when there's failure it's easy to say, 'This is what happened,''' Kotsay added.
The first baseman/outfielder has also been struggling through a rough season himself.
"If you look at the whole year from a Mark Kotsay standpoint it's been criticism from the get-go,'' Kotsay admitted. "I didn't get off to a good start, I got buried, I slowly got myself out of that hole when the team was having success in the winning portion of the season, but even in that turnaround there was always talk that we needed a left-handed bat."
Kotsay's April checked in at an unsightly .108/.195/.189 in 41 plate appearances. While things picked up from there, only the months of May and August could be considered acceptable production from Kotsay to be a DH.
"I think I was able to carry myself in a professional manor and realize, 'Yeah, my success as a whole, if I evaluate my whole year, it's not nearly where I wanted it to end.' But I think I battled, I think I fought the whole season,'' Kotsay added, noting that the team was 27-18 when the lefty started at DH.
So does that mean he thinks Chicago will bring him back?
"From a personal standpoint my future probably doesn't lie in Chicago,'' Kotsay said.
Why could that be? Well, for one, its likely that the White Sox look elsewhere to squeeze more production out of designated hitter, if not bring in a strict DH like GM Kenny Williams did by importing
Manny Ramirez
in a last-ditch attempt to keep the White Sox in postseason contention.
Secondly, it sounds like Kotsay has his own reasons for moving on, which he wouldn't specify but may have jilted feelings as a factor.
The 34-year-old, finishing up a campaign that has him at .238/.306/.378 to date over 346 plate appearances, should be able to find work off a bench somewhere, but his days of extended playing time look to be over.
-- Evan Brunell
For more baseball news, rumors and analysis, follow @cbssportsmlb on Twitter or subscribe to the RSS feed .