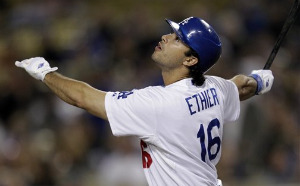 With another season drawing to a close, Dodger fans are viewing
Andre Ethier
's season as a missed opportunity.
Ethier was leading the NL in batting average on May 15 with a .392 mark, also contributing 11 home runs (tied for the league lead) and 38 RBI.
Alas, he broke his right pinkie and by his own admission, came back from the injury a week or two too early. Combined with missing four games in April due to a sore ankle, and Ethier "missed 20 games," he
told the Los Angeles Times
. "If you add those 20 games into [the total], my big numbers are right there where they were last year."
With a 2009 line of .272/.361/.508 with 685 plate appearances and 31 home runs, Ethier is not too far off the mark when you consider his .287/.359/.496 line with 23 blasts in 562 trips to the plate.
However, the fact remains: the way Ethier got the season started at the age of 28, even just matching the previous season's line pales in comparison to the talent the lefty was flashing.
Ethier is ready to get back to that superstar level of play, though.
Ethier's finally regaining full strength in his hand, allowing him to finish his swing correctly. "[It's] probably the last two, three weeks that I feel like I've gotten my full strength back," Ethier noted, "where I could say it's almost back to 100% strength-wise in my hand and I feel like I can grab and swing the bat the way I want."
While acknowledging how lack of strength in his hand held him back, Ethier refused to "use that as a crutch and say that's why I didn't hit or did."
But then he admitted that the lack of strength "affects your body, your mind, your confidence."
That's certainly easy to see, especially given Ethier's .272/.422/.529 line over the past 16 games, as he regains his strength and confidence.
Confidence and maturity are two things that Joe Torre thinks Ethier and other youngsters like
Matt Kemp
need to address, however. The skipper believes mental issues are more to blame for Ethier's struggles than anything.
"I just still think it's the lack of the mental aptitude to just fight your way through it," Torre said Saturday. "They let the frustration take over."
Ethier, who came over from Oakland in a trade for
Milton Bradley
back in 2005, agreed with that assessment, saying that he and others need to "find a way to pick it up."
In yet more contradictions, however, Ethier mentioned that the loss of
Manny Ramirez
affected his production, saying he is not "the same hitter if I don't have the same lineup around me."
Ethier likely meant that pitchers pitch to him differently if there is a lack of protection behind a hitter, which is true, but it seems as if Ethier doesn't quite grasp what it means to rely on yourself to produce.
-- Evan Brunell
For more baseball news, rumors and analysis, follow @cbssportsmlb on Twitter or subscribe to the RSS feed .