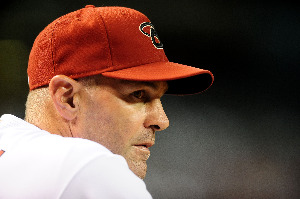 Kirk Gibson may not be the
Diamondbacks
' manager in 2011, but he's not holding back with changes just in case he is.
Looking to have a "huge head start in how to address our deficiencies," Gibson has ordered the video room in the clubhouse locked during games as the
Arizona Republic
reports
.
Why lock the video room? Gibson says that he's tired of players running to the video room during games to check replays, especially on ball/strike plays.
"Then they want to [complain] about it on the bench," Gibson said. "Well, that's not getting you anywhere, and in my opinion they're walking down there to watch a negative, and I don't like that."
Players, according to Gibson, should have "a clear picture of why they are here, how to find motivation and how to condition themselves on playing the game the right way and persevering through bad times," Bob McManaman writes.
Part of that is staying focused on the game, not whether a called third strike was actually a half-inch outside.
"You learn things about the game that way, and you need to see things that are going on," Gibson, the former postseason hero, noted.
Gibson also refuses to listen to his players complain about questionable calls by umpires, instead telling them to deal with the umpires themselves next at-bat.
"You've got to take care of it yourself. Don't come tell me; I'm not hitting," Gibson said. "Some guys are really good about it. Some guys are very inexperienced about that. But it's part of playing the game."
The Diamondbacks have posted a 62-92 record so far, but many in the game are impressed with Gibson's impact on the team, including new general manager Kevin Towers. While nothing is official, all indications are that Gibson should retain the job.
Guess that video room isn't opening anytime soon.
-- Evan Brunell
For more baseball news, rumors and analysis, follow @cbssportsmlb on Twitter or subscribe to the RSS feed .