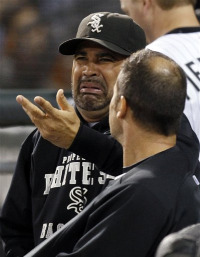 When you listen to Ozzie Guillen talking, you're never quite sure what he's saying as he's saying it. Between the accent and the syntax and the stream-of-consciousness delivery, it's a unique challenge for reporters, who sort of smile and nod and then run up to the pressbox and study the audio recording like police analyzing a tape of a ransom call.
On Friday, Ozzie let loose another flood of ... words, or thoughts, or something ... when asked about his future in Chicago. The bottom line is that it's believed he has a guaranteed contract for 2011 with a club option for 2012. But contracts don't always mean a lot for managers -- if Guillen decides to move on, he'd probably be allowed to. There will be about a dozen managerial openings this winter, and it's been mentioned more than once that he'd be a good fit in Miami.
Guillen
told reporters
he wants to hear from the team, and soon, where he stands.
"It's a funny thing because I never asked for an extension,'' Guillen said. "You guys asked me if I want one. Well, everyone does. Everybody. Even you, you ... everybody. The funny thing about it is people sound as if I asked for an extension. I never did. Because I have one. I have a contract. My thing is, every year, every manager, every player, they want to know what's my stance. That's it. That's what I want to know. Maybe it's a good one. Maybe it's a bad one. But I like to know.
"I guarantee anyone I'm not going and say, 'Listen, this is what I want. This is what I need. I just want to know what we think and what's my position,' and then we see what happens.''
And if no additional job security, in the form of an extension, is offered?
"Well, then I talk to my family to see what they think,'' Guillen said. "I'm not going to make my decision just by my feelings. Maybe I say, 'OK, let's go another year, and we'll see what happens.' I'll be working here or there or somewhere. I might not be managing, but I'll be making money out of baseball. Easy. I want to be managing, of course. But in the meanwhile, if they say that and then I make my decision in what I decide to do.''
Got it? Yeah, me neither.
-- David Andriesen
For more baseball news, rumors and analysis, follow @cbssportsmlb on Twitter or subscribe to the RSS feed .