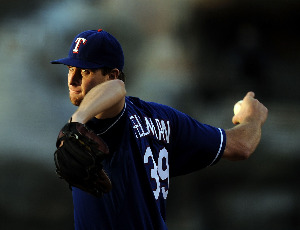 If a team reaches September with its season-opening No. 1 and 2 starters clinging to roster spots, that's not generally a sign that things have gone well.
But in Texas, they've managed just fine without much help from
Rich Harden
or
Scott Feldman
, who, according to T.R. Sullivan of
MLB.com,
are unlikely to even make the
Rangers
' postseason roster.
"It's all right," said Feldman, who has pitched just three times this month out of the bullpen. "I just wish I was contributing to the team a little more ... a lot more. I'm just trying to stay ready. If they need me, I'm more than ready. I'd be happy to contribute in some way."
Feldman won 17 games last season and was the opening-day starter this spring. But he's 7-10 with a 5.45 ERA and was dropped from the rotation in late July.
"I was not expecting this," Feldman said. "I was expecting to be on a good team ... that part has been great. But I didn't expect to be marinating in the bullpen and not pitching. That's obviously disappointing."
Harden has managed just 88 innings and has had miserable command, leading the majors with more than six walks and 19 pitches per inning. He signed a one-year deal with the Rangers and won't be back.
"I don't know ... it wasn't a lack of effort," Rangers general manager Jon Daniels said. "Maybe a combination of health issues, general inconsistency and a lack of command. We knew it was kind of a high-risk/reward signing. He's capable of more. It didn't pan out the way anyone predicted."
Meanwhile, the Rangers converted
C.J. Wilson
to starting, and have been rewarded as he has posted a 14-7 record and 3.15 ERA. They also made a little trade you might have heard about, acquiring
Cliff Lee
in July. They are hardly hurting at the top of the rotation.
"We talked about our pitching depth at the beginning of the year," Daniels said. "We were counting on our depth coming into play, picking up the back spots of the rotation. The way it worked out -- in baseball you never know what's going to happen."
-- David Andriesen
For more baseball news, rumors and analysis, follow @cbssportsmlb on Twitter or subscribe to the RSS feed .