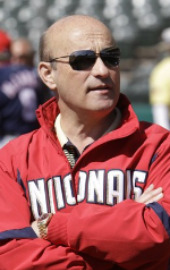 Stan Kasten announced Thursday that he'll step down after the season as president of the
Nationals
, and at least one person thinks he'd be a good fit as baseball's next commissioner. Bobby Cox worked with Kasten for years when Kasten was president of the
Braves
, and thinks his old boss has the right stuff.
"I've never talked to him about that, but I think it would" appeal to Kasten, Cox told the
Washington Post.
"He's qualified to do that job, absolutely. He's a lawyer. He knows the game. He loves baseball more than anything. He knows the inner-workings of it. He'd be a solid choice, in my opinion."
Kasten, 57, has a law degree from Columbia and extensive experience both in baseball and in the NBA, where he won back-to-back executive of the year awards as general manager of the Atlanta Hawks. He started in that job at age 27.
"He's so young," Cox said. "He's got so much energy and vigor. I don't know what he's going to do. I've got no idea. He'll be in something in sports, no doubt. He loves it. And he's excellent at what he does."
Kasten has been coy about his reasons for leaving the Nats, but those close to him think he was frustrated by ownership's unwillingness to expand payroll. He has said he's not looking to retire.
Selig has announced he'll step down as commissioner after the 2012 season, and the search for his successor hasn't begun. Names that have been thrown around speculatively include George W. Bush (though he says he's not interested), Rudy Giuliani,
Red Sox
CEO Larry Lucchino and MLB president Bob DuPuy.
-- David Andriesen
For more baseball news, rumors and analysis, follow @cbssportsmlb on Twitter or subscribe to the RSS feed .