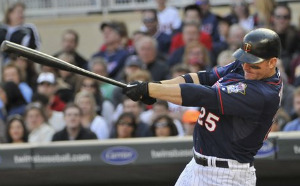 Jim Thome
plans to play again in 2011 after a wildly successful 2010 with the
Twins
puts him at a .280/.412/.631 line with 25 jacks in 335 plate appearances.
However, if Minnesota somehow pulls off a World Series victory in 2010, that would hand Thome his first ring after appearances in the 1995 and 1997 series. And to hear Thome tell it, that might make him walk away from the game.
"There would be nothing better than going out with a ring, I think," the 39-year-old
told the St. Paul Pioneer Press
. "That would be something very special. We'd have to sit down over the winter and really think it out. I don't know; we'll see what happens."
Thome would certainly command a raise over the $1.5-million base salary he's earning. His 2009, split between the
White Sox
and
Dodgers
, represented a .847 OPS that was his lowest since an injury-shortened 2005 and prior to that, was his worst since a part-time season back in 1991, when he was 22. The resurgent year, however, has shown Thome can still hack it with the best of them despite what baseball constitutes as old age.
However, would he return to the Twins?
With the emergence of
Delmon Young
, that answer is not easy.
Justin Morneau
will man first next season while
Michael Cuddyer
would return to the outfield alongside
Denard Span
and Young, with
Jason Kubel
the primary DH and rotating into the outfield. That squeezes Thome out of a full-time job -- and even a part-time one with solid playing time.
If Thome plays beyond 2010, he'll likely have to find a new home to DH. A return to the White Sox make sense, although manager Ozzie Guillen still resists the idea of a full-time DH, preferring to pay part-time players with part-time talent to rotate throughout the field. The
Yankees
are another possibility, as Thome's home-run power would play incredibly well at Yankee Stadium.
-- Evan Brunell
For more baseball news, rumors and analysis, follow @cbssportsmlb on Twitter or subscribe to the RSS feed .