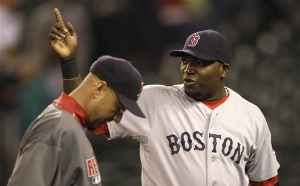 David Ortiz
wants a multi-year contract extension, and he's making that very clear.
"I'm not going to feel comfortable coming back here just for a year just to re-live all the pressure and all the stuff I've been through,"
Ortiz told Rob Bradford of WEEI
. "I don't think it's fair for myself. I think about things and I go through a lot of things mentally, especially for this club."
Big Papi has a $12.5 million club option for 2011 that the
Red Sox
will, in all likelihood, pick up after Ortiz staved off yet another April downturn to post 31 home runs and 96 RBI through September 24 with a .261/.362/.527 mark in 569 plate appearances.
"The Red Sox are in my blood," Ortiz added. "If there is an organization that I always look at as home, as it's part of me, it's this one. This is the organization I've been the longest with. I carry a lot of responsibility playing for this ballclub. I try to keep up with it. But I don't think I can keep up with all the crap that you go through just because you cool off for one week or one month. I think the only way you can stay away from that when people know you have a guaranteed contract."
It's pretty clear that Big Papi can, in fact, keep up with "all the crap" without a guaranteed contract because that's exactly what he did this season -- and in 2009, it took him two months to snap out of his funk even knowing he was in town for another year. In fact, could the lack of a guaranteed deal in 2011 have aided in his motivation and turnaround?
Ortiz isn't very interested in finding that out again, saying he would play under the club option if he "had to" but would prefer to sign a deal that guarantees he finishes his career in Boston.
"I want to be what I was here and be part of this ballclub until I finish my career," Big Papi said. "I feel for this ballclub. Believe or not, every year I try to work harder to put up the numbers that I put up there. Even going through some tough situations I think I've done a pretty good job."
Ortiz has indeed done a good job but at age 34 and strictly a DH, he seems to have an over-inflated sense of worth, the same worth that has been stripped away from other players once hitting the free-agent market such as
Bobby Abreu
and
Vladimir Guerrero
. If Ortiz wants a multi-year deal, he'll be hard-pressed to find it on the market, never mind from Boston. He'd likely have to sign a deal with a very low base -- say, $4 million a year -- with incentives rising.
If he settled for a one-year deal, he would earn around $8 million, so the $12.5 million option has to be considered a godsend. While anyone would like job security, Ortiz at the very least will get paid over and above his market worth for a one-year deal.
-- Evan Brunell
For more baseball news, rumors and analysis, follow @cbssportsmlb on Twitter or subscribe to the RSS feed .