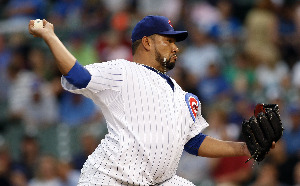 Sounds like it's time for
Carlos Silva
to call it a year.
The right-hander went on the disabled list on August 2 with heart troubles, and came off September 7, taking the mound. Silva then missed his next start with a right elbow strain and now looks unlikely to make it back onto the mound before the close of the season comes.
"The thought of him getting built up in time for the last series -- you never rule anything out, but it would be very tough," manager Mike Quade
told MLB.com
. "My way of thinking is to just monitor him carefully. To rush somebody back for no apparent reason as opposed to getting him completely healthy would not make much sense to me. We'll continue his throwing program."
Silva had a major bounceback season after being nothing short of awful in his first two seasons as a Mariner after signing a four-year deal. Silva posted a 6.81 ERA and 5-18 record across 34 starts and two relief appearances for the M's before being part of a bad-contract swap for
Milton Bradley
. While Bradley has fizzled in Chicago, Silva thrived in the early going before stumbling to the finish line. Despite that, Silva has a 4.22 ERA in 21 starts, reclaiming his pinpoint command and whiffing 6.4 batters per nine -- far and over his previous high of 4.9, set out of the bullpen for Philadelphia in 2003.
"[Silva has] been around long enough and he's smart enough to know what you want and what you're capable of are two different things," Quade said. "In the next six, seven days of work, it'll tell him what he's capable of doing. If he's healthy, I'm sure he'd like to pitch. It's not time for me to get involved until we see a healthy side and maybe a simulated game."
The
Cubs
have 11 games remaining, so it's extremely unlikely Silva can pass enough tests and convince enough people to make one more start.
However, he's convinced plenty that he's still a major-leaguer, which is a major accomplishment given his history.
-- Evan Brunell
For more baseball news, rumors and analysis, follow @cbssportsmlb on Twitter or subscribe to the RSS feed .