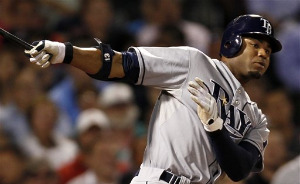 A World Series ring would be most welcome to the Rays, but it has no bearing on the payroll situation.

Owner Stuart Sternberg has plans to reduce payroll after the year, saying in spring training it would be south of $60 million. Given the Rays have sluggers Carl Crawford (pictured) and Carlos Pena coming off the books, it represents quite the stark reminder that the Rays just can't sustain high payrolls, even one as "high" as an Opening Day mark of $72.8 million.


"Unfotunately there's nothing that can happen between now and April that can change [a lower payroll],"
Sternberg told
the
St. Petersburg Times
. "Unless Joe Maddon hits the lottery and wants to donate it, or I hit the lottery.''
Unlike spring training, Sternberg refused to speculate on how low the payroll can go. "I don't have a plan in mind what the lower [end] is,'' he said. "I just know it's going down.''
He also added that the Rays "can't come close" to turning a profit this season and doesn't believe season ticket sales will rise due to the successful year Tampa Bay has had.
The Rays (and
Marlins
, if they had effective PR) are perhaps baseball's shining example why, even with revenue sharing, it's next-to-impossible for small-market clubs to have any modicum of success.
Tampa will still have a young club and shouldn't fall off too terribly in competitiveness thanks to top prospect
Desmond Jennings
in line to replace Crawford and a bevy of top pitching prospects perhaps hinting at acquiring a replacement first baseman. However, the mere fact the Rays have to slash payroll under $60 million with such a promising team in a tough division is evidence enough that the system, if it isn't broken, isn't quite fixed.
-- Evan Brunell
For more baseball news, rumors and analysis, follow @cbssportsmlb on Twitter or subscribe to the RSS feed .