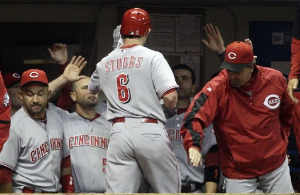 With a home run Monday night,
Drew Stubbs
notched a 20/20 season in his first full season as a big-leaguer. That's rather impressive, given Stubbs' roster spot was in jeopardy just two months ago.
"His upside potential is so high," manager Dusty Baker
remarked to the Cincinnati Enquirer
. "Now that's he's done you've got a pretty good idea of what he can do. He's made some improvements over the year."
Stubbs has a .250/.320/.432 line in 546 plate appearances with 20 home runs and 25 stolen bases to his name (along with six caught stealing). Stubbs' hot August and September (.302/.377/.532 in 160 PA) has erased doubts about his long-term viability in center when he was hitting .229/.297/.391 in 396 PA as the calendar flipped to August.
"At one time, people were screaming to send him out of here," Baker observed in a bit of delicious irony, having played Willy Taveras over the 25-year-old last season for no apparent reason and getting his Taveras toy taken away from him so Stubbs could be written in the lineup for 2010. "Sometimes you've got to take a young player and let him improve -- the only way to do that is play."
And play Stubbs has, right into a position on a playoff team.
-- Evan Brunell
For more baseball news, rumors and analysis, follow @cbssportsmlb on Twitter or subscribe to the RSS feed .