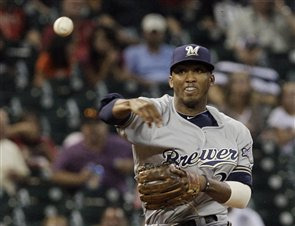 If Alcides Escobar wants to have a long major-league career, it's going to start with making adjustments at the plate.

Brewers hitting coach Dale Sveum says that Escobar has a mechanical flaw in his swing he must fix if he wants to succeed, reports the Milwaukee Journal Sentinel .

"He has to change his mechanics," said Sveum. "What he's doing won't hold up to big-league pitching on a consistent basis. He has a winter project to work on."
Escobar corralled a starting job near the end of the 2009 season, hitting .304/.333/.368 in 143 plate appearances and with a reputation for fantastic defense. That reputation has taken a bit of a knock, but even if it was superlative, it would be hard to cover up Escobar's .237/.288/.327 mark in 528 PA. He has no power to speak of despite lifting 34.2 percent of hits for fly balls, and that's where the problem lies according to Sveum.
Escobar gets out front, dipping his front shoulder as Sveum explains. This flaw forces Escobar to elevate his shoulder to swing at pitches, which gives his swing an uppercut, flyball tendency -- which doesn't jive with Escobar's lack of power and above-average speed. What Escobar should be doing instead is focusing on line drives and legging out groundballs.
"He's got to understand it's a game of adjustments," said Sveum. "It's very difficult, the way he hits, to use his God-given hand-eye coordination. He's so front-foot forward."
Sveum acknowledges that it may take time for the 23-year-old to change, as he's experienced success up until this season.
"Sometimes you hit rock bottom before you change," said Sveum. "It's a game of adjustments and he has to make some."
-- Evan Brunell
For more baseball news, rumors and analysis, follow @cbssportsmlb on Twitter or subscribe to the RSS feed .