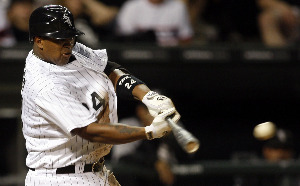 "Very impressive."
Nope, that's not manager Ozzie Guillen's view on third baseman Dayan Vicideo, a 21-year-old Cuban defector.
It's about the 23-year-old
Brent Morel
, who is a top prospect and has shined in his 23 big-league plate appearances thus far, hitting .238/.304/.619 with two homers. Morel, a third baseman who has seen time at short in the minors (albeit just 17 games), cranked 10 home runs across Double- and Triple-A with a .322/.359/.480 line in 527 PA. He's likely to be a starter next season for the
White Sox
.
Viciedo, on the other hand?
"I don't think Viciedo is ready. That's my opinion," Guillen
stated to MLB.com
. "To play in the big leagues? You see a good couple of at-bats here and there, but to get a good 500 at-bats, I would think about it."
The White Sox are looking to get a return on their investment, having poured four years and $10 million into the youngster prior to the 2009 season.
The righty has 86 PA for the ChiSox -- and just one walk to show for it. That's a big reason his OPS is .726 despite a .271 batting average and solid power with six doubles and three home runs. Somewhat aggressively called up, Vicideo had a .274/.308/.493 line in 363 Triple-A plate appearances (with Morel moving up to Triple-A upon Viciedo's promotion). Walks have always been a problem for the youngster, and it remains to be seen if it will hold him back at the big-league level.
"He's still far away from being here, a year away or maybe two years away," Guillen added. "Right now, I don't think he can perform every day. We have to wait and see in spring training how mature he is and how he comes back."
So what does Viciedo have to learn besides plate discipline?
"You hit in Triple-A and you face two or three good pitchers," Guillen remarked. "In the big leagues, you face everyone. They have a lot of scouts. They are going to see his weakness. Offensively, he has to make some adjustments."
-- Evan Brunell
For more baseball news, rumors and analysis, follow @cbssportsmlb on Twitter or subscribe to the RSS feed .