Last year's American League Cy Young winner,
Zack Greinke
, says he struggled at time with his social anxiety disorder and a lack of motivation this season in a
long interview with MLB.com's Dick Kaegel
.
After going 16-8 with a 2.16 ERA in 2009, Greinke was 9-12 with a 3.90 ERA. The advanced statistics, such as xFIP (normalized fielding independent pitching) show he was still good this year, but not quite where he was a season ago -- 3.15 in 2009 to 2.78 in 2010.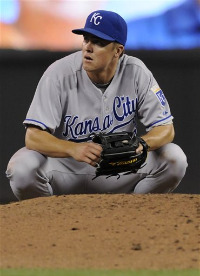 Greinke said he had some trouble with motivation this season after winning the Cy Young a year ago and pitching for a losing team once again.
"When we're 20 games out, it's hard to get excited to come to the park," Greinke said.
Signed through 2012, Greinke praised the
Royals
' minor league system, as well as more big league talent.
"Now we have … not the most talented big league team in all of baseball, although we do have some pieces that should be productive big leaguers, unlike four years ago when we didn't have many," Greinke said.
Many rank the Royals' minor league system as the best in the majors. Trouble is, that talent is still a couple of years from bearing fruit. The Royals are as deep in pitching talent as any organization, so they could choose to move Greinke to get more depth for when they're ready to contend, which is unlikely in the next two years.
"I what to be on a team that's trying to win. And that's my whole thing. That's my goal now -- to win, not to win the Cy Young or even [be in] All-Star Games or whatever," Greinke said. "I just want to be on a team that's working towards winning right now. I don't what to just go through years where you're rebuilding. It's not something that gets me excited is all. So my whole point is my desire is to win games."
Greinke also said he expects to change some of the medication he takes to manage his social anxiety disorder during the offseason.
"In the offseason, I think we're going to up the dosage some because I had a little bit of problems with it some this year," Greinke said. "But we're just going to have to up the dosage a little bit and it should help it out."
-- C. Trent Rosecrans
For more baseball news, rumors and analysis, follow @cbssportsmlb on Twitter or subscribe to the RSS feed .