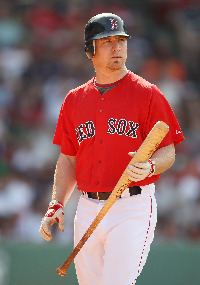 Could
J.D. Drew
be finished after the 2011 season?
Speaking to
WEEI.com's Rob Bradford
, the
Red Sox
outfielder said he's undecided on his future.
Here's what Drew, 35 in November, had to say:
"My whole thing is being as family-oriented as I am I have to let this whole thing wind down. When I signed this contract I did so with the intentions … when I put a signature on the line I want to make sure I'm committed to doing whatever it says.

"When I signed in LA I thought that I'll have 11 years in the big leagues and I'll weigh my options then. When I opted out (and signed with the Red Sox) I thought I easily had five years in me. Now I'm in a position, after next year, I'll have to make a decision if it's conducive to me going home and being with my family full-time, or if the family lifestyle is able to survive the rigors of a baseball season.

"I don't think people realize the intensity of being gone. It's really, really difficult. Then there's where I stand in my faith and my commitment. Those things pull heavily when you start to get to this point in my career. There are so many things I want to do in the mission field and different things like that. It's definitely going to be a thing where I'll get ready for the season and as it goes along see what happens."
Drew said his health isn't an issue in his decision:
"I've found a way to keep myself relatively healthy," Drew explained. "I get criticized a lot because of a severe knee injury I had my third year in the big leagues, which literally crippled me for 2 1/2 years. Then I broke some bones which was out of my control. The only time I really felt I wasn't prepared for a baseball season was my rookie year when I pulled a quad muscle and I rolled my ankle. That year I knew I wasn't ready for 162 games. But after that I figured it out."
Drew has played in 128 games this season, which on this year's Red Sox is Gehrig-like, and played in at least that many games in three of the last four seasons. Drew has had a drop-off in productiont his season, hitting .257/.349/.444, down from both 2009 (.279/.392/.522) and his career line (.281/.388/.499). If it's an off season, Drew likely has a couple of more years in him, but if it's the start of a trend, it wouldn't be that surrpising for him to end his career following 2011.
-- C. Trent Rosecrans
For more baseball news, rumors and analysis, follow @cbssportsmlb on Twitter or subscribe to the RSS feed .