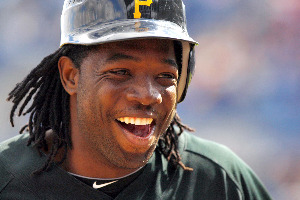 Lastings Milledge
's season is likely over after a left oblique strain shut him down on Tuesday.
That will bring 2010 to a close with a disappointing .277/.332/.380 line in 412 plate appearances as the talented 25-year-old failed to take the step forward which has been expected of him for years.
Toss in defensive struggles, and Milledge probably can't wait to turn the page on 2010.
Not so fast. Milledge actually considers his career "at the best point its ever been,"
MLB.com writes
.
Huh?
"I broke a lot of labels," Milledge said. "I broke a lot of things that were said about me. That was a goal, as well to get that negative vibe from over my head this year. I think that's bigger than hitting 30 homers. I think that's bigger than anything else, because now teams see that I've gotten a lot better as a player and a lot better as a person."
Milledge has toted around a negative label the last few years, one that saw him kicked out of the Mets and Nationals organizations. In fact, Milledge was dealt to the Pirates for Nyjer Morgan in a bit of delicious irony.
However, 2010 has been quiet in terms of newsprint about Milledge and his bad attitude, character, work ethic and whatever trait that was terrible in the past that just had to be written about.
But now, those in the Pirates organization say Milledge is anything but.
"Now I can be, quote, unquote, trusted," Milledge said. "I think that's bigger than anything. That's bigger than having an All-Star year. For me, it's huge to be able to be looked upon as a leader, and a guy that gives everything he has and is willing to make any adjustment at any given time. I think I've gotten a lot better. I just want to put everything together."
Milledge will head to winterball to make up for losing at-bats due to the injury and ineffectiveness that saw him lose his starter's job. He'll also head to Venezuela focused on being who he thinks he can be.
"I think I changed my game a lot this year, and it kind of cost me some playing time," he said. "I changed my approach around a little bit to get more hits and be more adequate on the field.
"I maybe gave myself up too much in situations that I could be more aggressive," Milledge added. "I think I was a little bit passive sometimes. It's just trying to have a fine line between being aggressive and knowing when to give yourself up. I think I've got to learn that. When I learn that, that's going to be the year where I put everything together."
It may be too late in the Pirates organization, as its unlikely Milledge will be handed a starting spot again. It's possible Pittsburgh could cut ties with Milledge entirely. More likely, he'll be a platoon player or fourth outfielder and have to fight for at-bats. Milledge understands that he might have to battle for playing time, but hopes he can prove his doubters wrong.
"I want to be an everyday starter," he stated. "I want them to look at me and say, 'This guy is going to do anything to win the game. Anything.' That's what I want."
Given his age, its unlikely the floundering Pirates get rid of Milledge. He'll certainly have to battle for playing time, but there's simply too much potential for the Pirates to give up on someone who has yet to turn 26 and shouldn't command a significant raise in arbitration.
-- Evan Brunell
For more baseball news, rumors and analysis, follow @cbssportsmlb on Twitter or subscribe to the RSS feed .