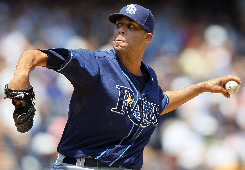 We'll get another Cy Young matchup next week (you know between "winners" not merely one of those guys
pitching better than anyone else
) as the
Rays
have juggled their rotation to set up a
David Price
vs.
CC Sabathia
showdown on Thursday in the finale of the four-game series at Yankee Stadium.
Price will start Saturday against the
Angels
, with
Jeff Niemann
going Sunday to make sure Price will get a chance to pitch against the
Yankees
in a rematch of Monday's 1-0 showdown.
"We've been kind of taking care of him and we feel pretty good where he's at, innings and pitches, right now," Rays manager Joe Maddon
told the Tampa Tribune
. "It just seemed like the prudent thing to do. We normally don't do those things. But it's not like we're not flexible. We're going to try to what we think is the right thing to do at a particular moment."
Price said he knew about the move for a couple of days and was thrilled to face the Yankees again.
"I get to face New York again, so that's fun," Price said. "I'll have another go around in New York. My last one wasn't so hot."
Price went eight innings, allowing three hits and no runs against Sabathia on Monday at home, but last time in New York he gave up seven hits and seven runs in five innings on July 18.
The move would also put Price on the mound for the final day of the season in Kansas City if the Rays need that game for playoff seeding.
-- C. Trent Rosecrans
For more baseball news, rumors and analysis, follow @cbssportsmlb on Twitter or subscribe to the RSS feed .